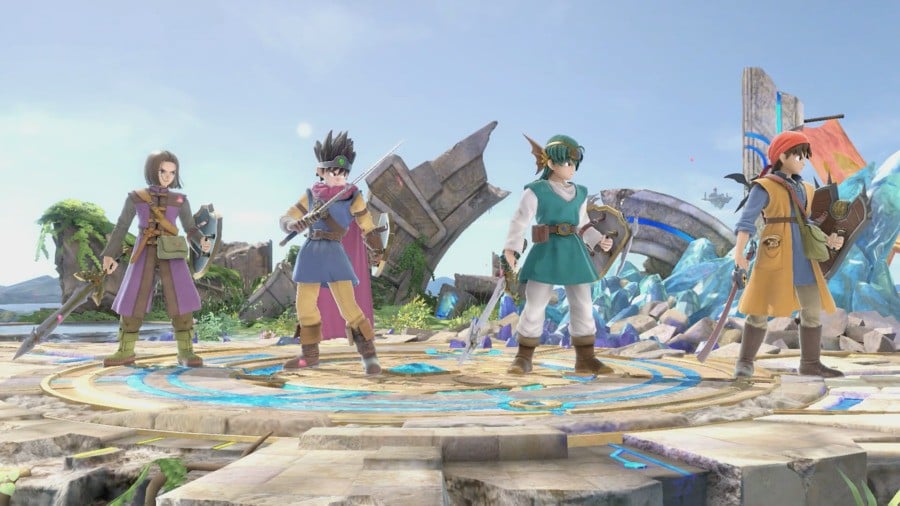 So, it's official: Dragon Quest's The Hero is arriving in Super Smash Bros. Ultimate later today - unless you're reading this in the future, in which case he's already here!
As such, we thought it was worth taking a good look at The Hero's alternate costumes, which work in a slightly different way to most characters, and also all of the Dragon Quest Mii Fighter outfits you can expect to pick up with your hard-earned cash. Let's get stuck in.
The Hero Alternate Costumes
We'll start with those alternate costumes. As you may already know, The Hero actually comes in four flavours, with each variant being based on The Hero's appearance in a different game from the series. Thanks to this, each of the four has been treated to one costume change, making for a grand total of eight, just like the norm. You can see the ordinary costumes above, and the alternate designs below.
Dragon Quest Mii Fighter Outfits
Moving on to the Mii Fighter outfits, we have Veronica and Erdrick for the Swordfighter, Martial Artist for the Brawler, and an adorable Slime Hat for everyone. It wobbles around on your head. These outfits are not included in the Fighters Pass, and instead can be purchased for $0.75 each. You can see them all below.
Plenty more details on how the character plays, the DLC's new stage and more were revealed in today's Super Smash Bros. video presentation. Make sure to check that out if you haven't already.
Which version of The Hero do you like the best? Will you grab any of these Mii Fighter outfits? Tell us below.