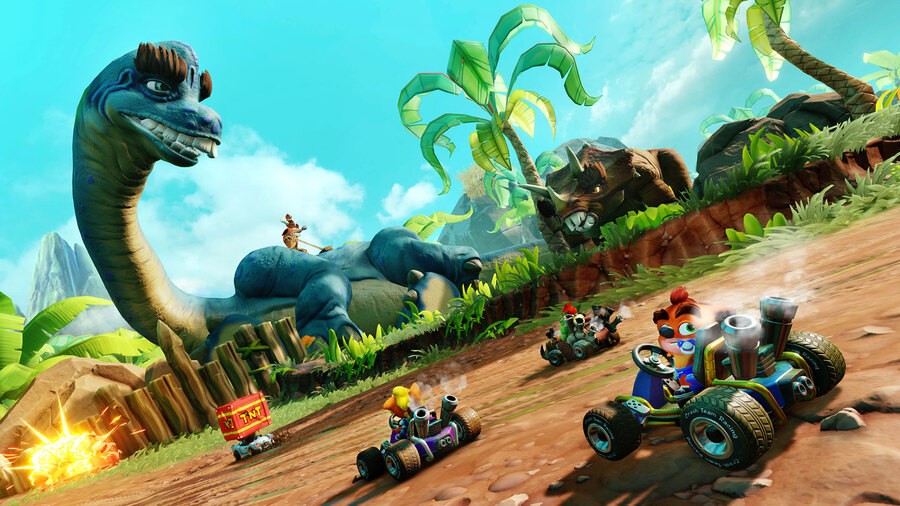 The Activision blog has outlined the next update coming to Crash Team Racing Nitro-Fueled on 2nd August and one of the most notable additions is the inclusion of microtransactions.
As there's now an excessive amount of cosmetic content in this nitro-fueled racer, Activision and Beenox will soon allow players to "fast-track" their Wumpa Coin collection. Essentially, you'll be able to buy more coins with real cash from the Switch eShop. Activision says this will have no impact on the core mechanics. Here are the full details:
With all this content available, there will also now be a way for players to fast-track their Wumpa Coin collection if they like. Starting in early August, players will have the option to purchase Wumpa Coin bundles from their game console stores to supplement the Coins they earn by playing. This option won't change the game's core mechanics – players will still earn Wumpa Coins by playing the game in any mode, just as before. They will just able to purchase additional coins if they choose.
The rest of the update, due out on 2nd August, will send players back to prehistoric times with the Back N. Time Grand Prix. It starts this Friday, runs until 25th August and is available to players with an online connection.
This event will come with new characters, skins, karts, customisation items and a new track. The new track is titled 'Prehistoric Playground' and will immerse racers in a world filled with Jurassic-themed content. The new items include the Nostalginator and Mammoth Karts, the "Fake Crash" skin and cave painting stickers. Baby T will also make his debut as a Grand Prix reward character (provided you complete the Bronze Tier of the Nitro Gauge) and a "Fake" Baby T skin is the final item in the Gold Tier.
As part of this event, the Pit Stop will be restocked. Some higlights include "adorable" baby versions of Crash and Coco. There'll also be some new skins like Mad Scientist Crash, Sabertooth Pura and Stone Age N. There are new challenges and refreshed leaderboards as well. For more information, check out the full blog post.
As for the future, even more characters (including Spyro) are on the way:
we're also excited to let fans know that they can expect more of their favorite characters from the Crash Bandicoot universe to join in on the Nitro-Fueled fun in the seasons after. Get ready for characters like N. Brio, Nina Cortex, and Komodo Moe to start shredding up the racetrack soon!
Are you still playing CTR on the Switch? Leave a comment below.
[source blog.activision.com]