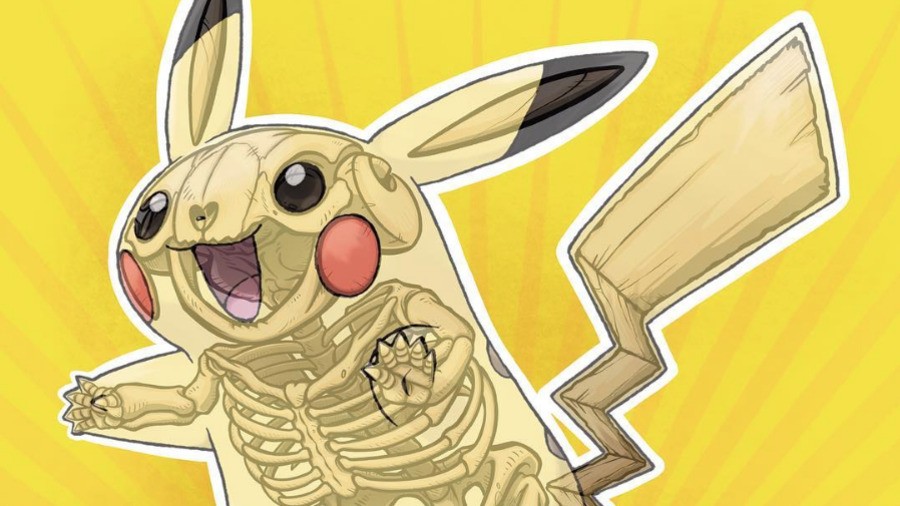 If you've ever felt the very specific desire to examine the insides of the cute, cuddly monsters from the Pokémon world, this gallery is absolutely for you.
Instagram artist Quincy Robinson, a toy developer from South Florida, has been working on an almighty Pokémon skeleton project, drawing up one monster a day entirely reimagined. All of the original 151 Pokémon have now been completed and posted to his account, with one new drawing popping up each and every day.
For each Pokémon, an image of the imagined skeleton fused with the designs we know and love is presented, with a separate post showing a timelapse video of how the skeleton was created. Let's use Charizard as an example.
There are some cracking (and also pretty creepy) takes on the Pokédex buried in this collection of images. Here are a few examples:
Some of our favourites actually ditch the skeleton idea in favour of other things; after all, not all Pokémon seem like they'd have a usual bone structure inside. Take a look at the likes of Gengar, Staryu, and the particularly interesting Ditto, which features 18 different organs to represent all the different Pokémon types it can transform into.
Speaking to Nintendo Life, Robinson says that all of the drawings were created on an iPad Pro using digital illustration app, Procreate. Apparently, Dugtrio was the most complex of all of the designs, and we can certainly see why.
We'd urge you head on over to @limbpaw on Instagram to see the entire collection and explore the thought process behind each design. Robinson tells us that he'll be kicking off a new collection of the second generation of Pokémon from 1st July, so make sure to give him a follow and keep an eye out for that.
Also, if you missed it, we recently shared another gallery of Pokémon x Super Mario crossover designs. Make sure to check that out, too!
What do you think? Have you now had enough nightmare fuel for one day? Share your thoughts on these designs with us in the comments below.