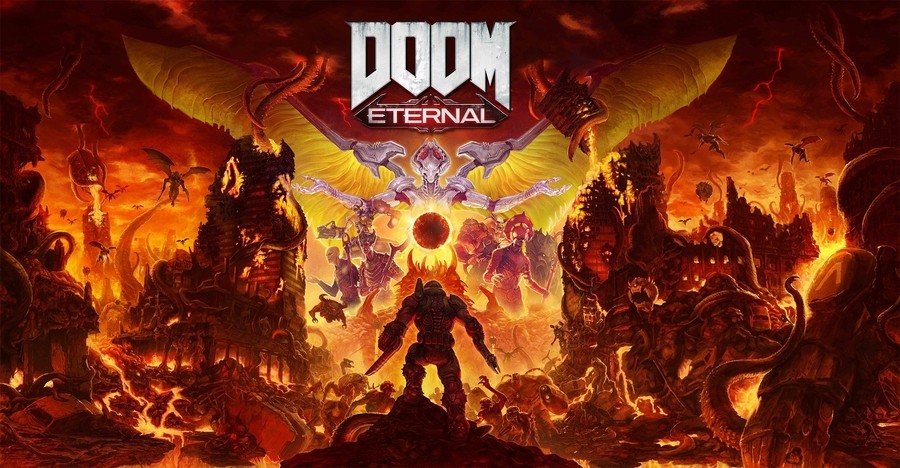 Update: It doesn't look like Switch owners will be getting the fancy Collector's Edition of the game, which comes with a frickin' Doom Guy helmet you can actually wear on your bonce. Boo.
---
Original Story: This just in: DOOM Eternal will be released on the Switch on 22nd November. The game's Creative Director Hugo Martin and Executive Producer Marty Stratton dropped this hellish announcement during Bethesda's E3 2019 Press Conference.

Adding to the excitement was the reveal of a new story trailer, along with the announcement of 'Battlemode' – a brand-new 2 v 1 multiplayer experience, built in-house by the team at id Software. View both the story and multiplayer mode in action below:
DOOM Eternal puts you in control of the DOOM Slayer as you blow apart new and classic demons with powerful weapons in unbelievable and never-before-seen worlds. Experience the ultimate combination of speed and power as you rip and tear your way across dimensions with the next leap in push-forward, first-person combat.
Introducing BATTLEMODE, DOOM Eternal's brand-new 2 versus 1 multiplayer experience built from the ground up at id Software. A fully-armed DOOM Slayer faces off against two player-controlled demons, duking it out over three rounds of intense first-person combat.
At the time of writing, it's unknown if the collector's edition will be available to Switch players. Regardless of this, here's a look:
And here's the information about what the deluxe edition includes (already confirmed for Switch):
Year One Pass with two campaign add-ons
Demonic Slayer Skin
Classic Weapon Sound Pack
Pre-order to receive the Rip and Tear Pack for a new player and weapon skin as well as the Cultist Base master level.
For more information about the standard, collector and deluxe edition, visit the official game page.
Are you hyped for the release of Doom Eternal on the Switch later this year? Tell us down in the comments.

[source bethesda.net, via gonintendo.com]