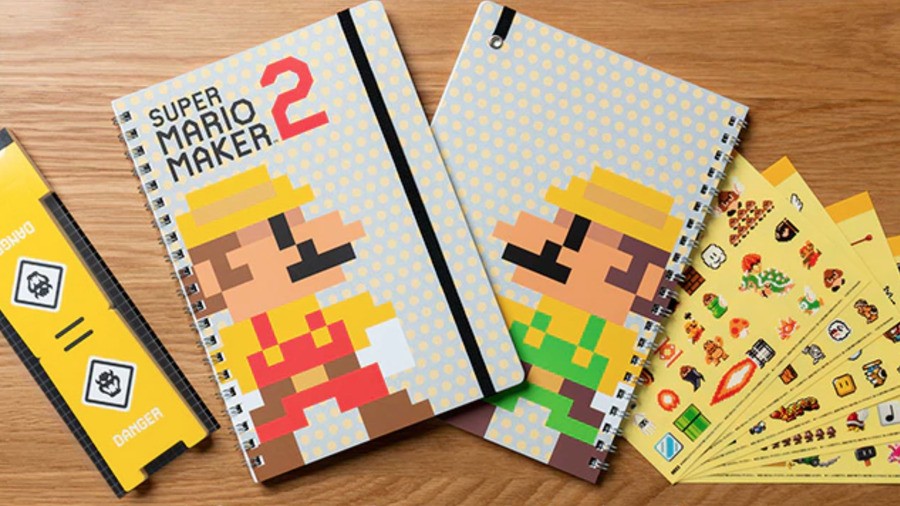 At this point, we could probably write a 10,000-word essay on why Nintendo should either bring Club Nintendo back from the dead or reintroduce physical rewards through the My Nintendo service in the west. Sadly, we can't see it making a comeback any time soon, so we'll just have to jealously admire the gifts available to Japanese fans for now.
Yes, those who make use of the My Nintendo service in Japan can now pick up this lovely collection of Super Mario Maker 2 goodies. Each item can be claimed for a number of Platinum Points (in the same way western fans can get digital games) with just a shipping fee added on at checkout.
First up, there's an adorable A5 notebook featuring Mario on the front and Luigi on the back for 500 Platinum points. It includes pages where you can note down your daily schedule and also has a graph paper section should you wish to design Mario levels in your spare time. It also doubles up with the next available gift which is a nice touch.
And that gift is stickers. Available for 300 Platinum points, you can pick up a collection of stickers to either place inside your notebook, or simply stick all over your house. There are five different sheets in total.
And finally, we have this excellent Bowser danger sign. If you look closely, you'll notice that one side has space for you to leave a note. The My Nintendo site suggests that you could leave little notes to your family when you're heading out with these, letting them know where you're off to in style.
They're only a bit of fun, of course, but collecting quirky little things like this used to be such a joy with Club Nintendo. Hopefully western physical rewards will make a true return one day. Please, Nintendo?
[source topics.nintendo.co.jp]