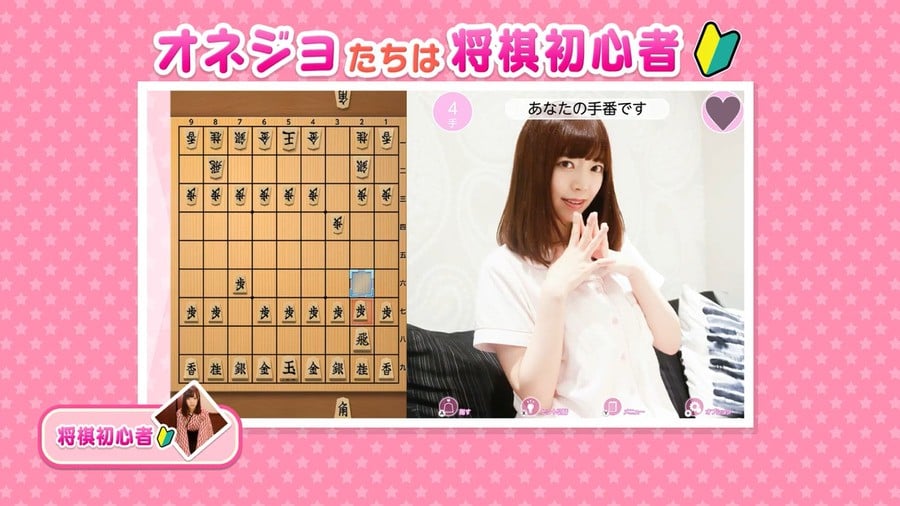 How do you spice up your chess game so it'll stand out on the overcrowded eShop? If you're Silver Star, the company behind Oshiete Onedari Shogi (or Teach Me Japanese Chess Pretty Please, if you prefer), the answer is to add some lovely ladies in a variety of revealing costumes.
Kotaku reports that this Japanese Switch exclusive not only gives you a good game of chess (or, more accurately, shogi, a Japanese variant), but also includes clips of professional cosplayers and even adult film actress Airi Satou. Her IMDB page isn't particularly impressive, but that's probably because she specialises in a genre that has its own awards ceremony, very much apart from the upcoming Oscars. Ahem.
The game doesn't contain anything explicit, although it's still rated over-17s only. If you're embarrassed at the thought of someone walking in while you're oggling beautiful models in various states of undress, you're in luck! A special 'Mom Showed Up Mode' flips out the bikini-clad ladies for some gruesome cartoon monsters with a quick press of the '-' button.
The game's trailer, which we won't reproduce here for reasons that should be obvious, refers to Satou as "your 2.5-dimensional daughter", which seems odd, to say the least.
Variety is the spice of life, as they say, but while it's great to see the eShop expanding its horizons, this reminds us of the very dull Pure / Electric Love games which cropped up last year. Still, at least you get to play a spot of Shogi with this one, and not just have a one-sided phone call with an idol.
Eager to learn shogi and think this will offer a mean game? Let us know your thoughts on this one...
[source kotaku.com]