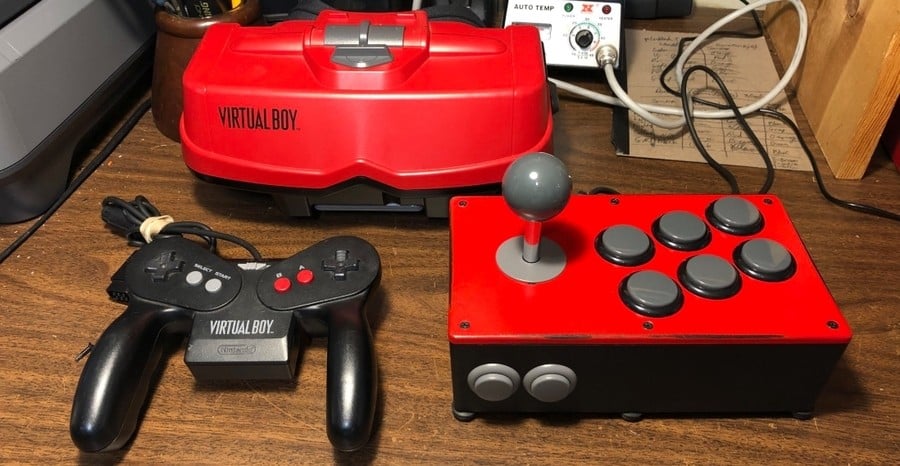 The Virtual Boy was universally panned by critics and goes down in history as Nintendo's worst system of all-time. Despite this, the 32-bit table-top console with a red monochrome head-mounted display has still managed to develop a cult following over the years.
Surprisingly, there's even a supportive homebrew community sustaining the system – helping make up for the lack of games on the device. Now, an individual by the name of Benj Edwards has created what is "possibly the world's first" Virtual Boy fighting stick. The BX-240 is designed for use with the unofficial Virtual Boy port of Street Fighter II, known as Hyper Fighting.
The arcade-style unit started out as a BX-250 – a "less traditional" arcade stick for general purpose use that resembles a similar layout to the original Virtual Boy controller. Take a look below:
For the fighting version of the stick, Edwards mashed together the design of an existing Super Nintendo joystick he had created (the BX-110) and his BX-250. The BX-240 caters primarily to fans of this genre with a comfortable six-button arcade-style layout, allowing on-screen moves to be flawlessly executed. As for the buttons and stick, Edwards sourced the best parts from Japanese manufacturer Sanwa Denshi – the same company providing parts for modern arcade units.
The downside to all of this is the fact you'll need to own a Virtual Boy and somehow obtain a copy of Hyper Fighting to be able to enjoy this device. Even then, Edwards has no plans to mass produce these particular arcade sticks, as he did with the Super Nintendo one he created, but is currently taking a small batch of orders via Twitter.
Is a Virtual Boy arcade stick something you've always wanted? Tell us below.
[source kotaku.com, via twitter.com]