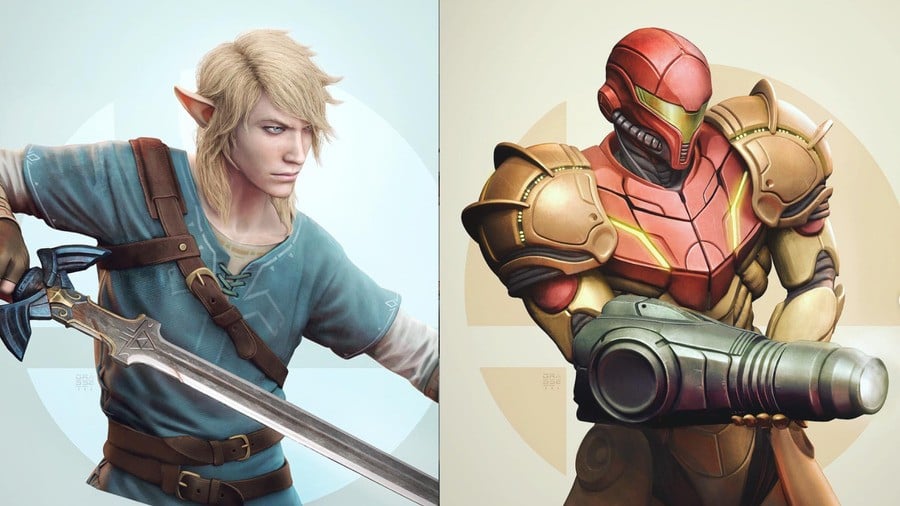 God of War and Super Smash Bros. Ultimate were two of 2018's biggest games, both going on to sell huge numbers at retail and capturing the hearts of players all around the world. Now, those two worlds have combined in spectacular fashion. And it's awesome.
Raf Grassetti, Art Director at Sony Santa Monica (the studio behind God of War), has been showing off his passion for Smash Ultimate's giant roster of characters by creating his very own art pieces. Under the name 'Smash Remastered', this collection shows the Nintendo favourites in a new, ultra-realistic light and - as you might expect from one of the artistic talents behind one of last year's most beautiful games - they're pretty incredible.
The designs have been coming in daily, starting with this piece depicting Samus Aran from the Metroid series. Each design brings with it a tease for the next day (accessed by scrolling through the images), and we were soon treated to a much-less-cartoony Link and a beefed-up Fox McCloud.
Next up was this terrifying Bowser design, ditching the Super Mario franchise's trademark cuteness for something straight out of a horror movie, and the most recent design is Sonic, no doubt causing all sorts of reactions from those still fuming with the upcoming Sonic movie's art style.
A quick scroll through the Sonic piece tells us that Mewtwo is up next, likely appearing later today if the upload schedule carries on so strongly and religiously. If you want to keep up with the designs (we're not sure how many will be completed in total) make sure to give Grassetti a follow.
Do you like the designs? Who do you hope to see next in the series? Let us know in the comments below.
[source instagram.com]