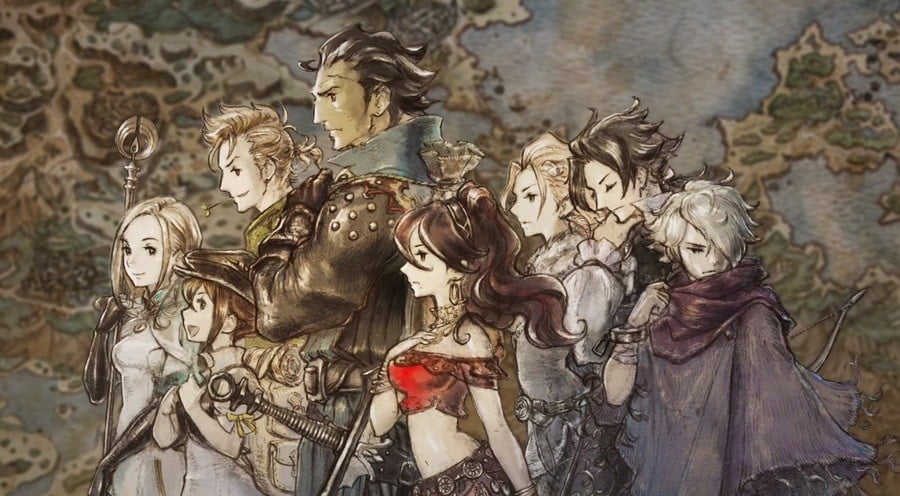 As 2018 wraps up, the award shows begin. While we wait for the votes at The Game Awards to be tallied, over in the UK, Square Enix's Octopath Traveler has been crowned 'Nintendo Game of the Year' at the 2018 Golden Joystick Awards.
The London-based awards show covered 23 different categories, with the majority of votes made by the global gaming public. Most of the other categories were for games exclusive to other platforms, but a few titles that also call the Switch home did get a mention.
Dead Cells by Motion Twin took out the 'Best Indie Game' category and Epic's Fortnite scored the 'Ultimate Game of the Year' award and 'Best Competitive Game' on the side. In terms of Nintendo's market competitors, the top PlayStation game was God of War and Forza Horizon 4 won the Xbox category. Capcom's Monster Hunter: World was recognised as the 'Best Cooperative Game' and Dark Souls creator Hidetaka Miyazaki received a lifetime achievement award.
The Golden Joystick Awards first began in 1983 and have since gone on to become the world's largest public-voted gaming awards brand. You can watch a replay over on Twitch and check out the full list of winners below:
Best Storytelling: God of War
Best Competitive Game: Fortnite Battle Royale
Best Cooperative Game: Monster Hunter: World
Best Visual Design: God of War
Best Indie Game: Dead Cells
Best Audio: God of War
Still Playing Award: World of Tanks
Best Performer: Bryan Dechart, Detroit: Become Human
Esports Game of the Year: Overwatch
Best VR Game: The Elder Scrolls V: Skyrim VR
Studio of the Year: SIE Santa Monica Studio
Best New Streamer / Broadcaster: Bryan Dechart and Amelia Rose Blaire
Mobile Game of the Year: PlayerUnknown's Battlegrounds Mobile
PC Game of the Year: Subnautica
PlayStation Game of the Year: God of War
Xbox Game of the Year: Forza Horizon 4
Nintendo Game of the Year: Octopath Traveler
Breakthrough Award: Unknown Worlds
Most Wanted Game: Cyberpunk 2077
Critics Choice Award: Red Dead Redemption 2
Lifetime Achievement Award: Hidetaka Miyazaki
Outstanding Contribution: Xbox Adaptive Controller
Ultimate Game of the Year: Fortnite Battle Royale
[source twitter.com]