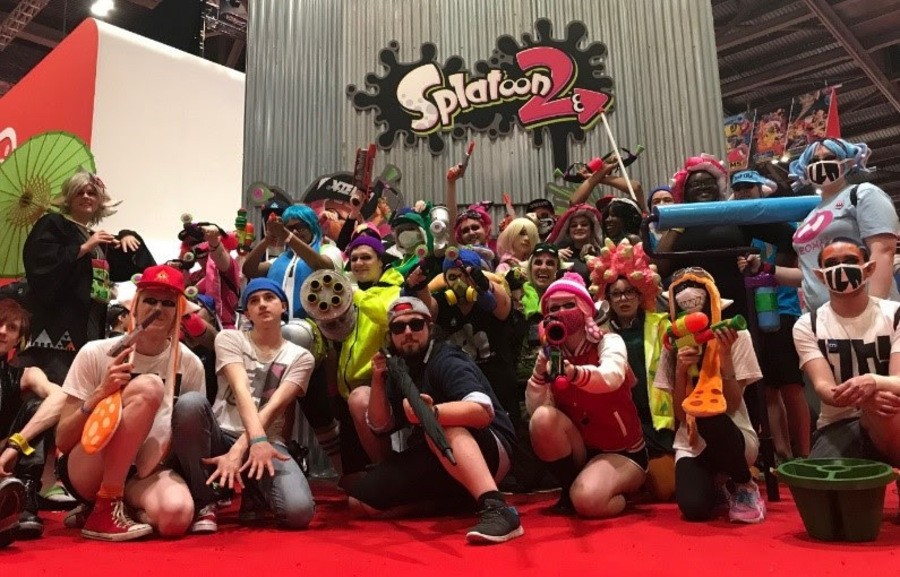 Nintendo UK is gearing up for the Splatoon 2 UK Championship 2018 Grand Final taking place next month, with a truly inkredible number of activities, events, and generally exciting things happening at the show.
Taking place at MCM Comic Con Birmingham at the NEC on 24-25th November, the event will crown the winning team of the Splatoon 2 UK 2018 championships after months of fierce competition in both the Inkling League and Octo League, and the game's producer Hisashi Nogami will be there to hand out the awards to the top teams. He'll also be sticking around on both days to meet fans and conduct a Splatoon 2 poster signing session at specific times.
That's not all, though. Nintendo will also host the 'Splatoon UK Championship 2018 Cosplay Contest', looking for the freshest Inklings in the country. Nogami-san will be among the judging panel for this one, and those interested in taking part - and winning some lovely prizes - can pre-register for the competition by emailing '[email protected]' with the subject line "Splatoon UK Championship 2018 Cosplay Contest", providing their name and their chosen cosplay.
On top of this, Nintendo is currently searching for the most artistic members of the community, with submissions now being taken for the Splatoon UK Championship 2018 Fan Art Contest. You can send any entries to that same email address above (by 23:59 on November 11th), with the top ten entries winning tickets to the event. Then, on the Sunday at the event, Mr. Nogami will announce the top three art pieces, with each of the three winners receiving Splatoon 2 goodies and a copy of their design signed by the man himself.
Amazingly, that's still not all! Attendees will also have the chance to go hands-on with the upcoming New Super Mario Bros. U Deluxe, Pokémon: Let's Go, Pikachu! and Let's Go, Eevee!, Super Smash Bros. Ultimate, and many more. Tickets for the event are available to book right now if you'd like to attend, so make sure to get involved with the fun if you live nearby. Those who can't attend can watch the action unfold on Twitch and YouTube.
Are you a competitive Splatoon 2 player? Do you live in the UK and want to go to the event? Let us know if you'll be attending with a comment below.