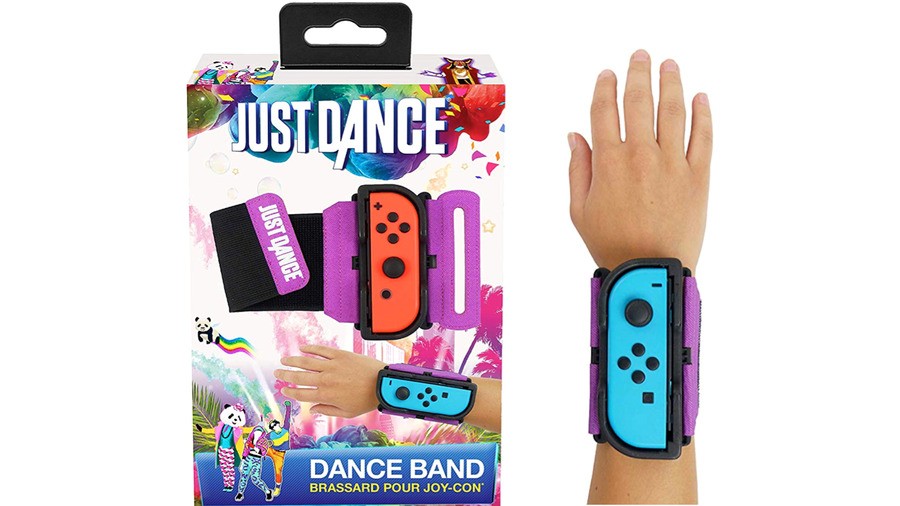 If you love a good session of Just Dance on Switch, either with 2017, 2018, or this week's Just Dance 2019, then this Just Dance Joy-Con holder wristband might come in particularly handy.
As you'll be aware if you've played a Just Dance game before, swinging your arms to the funky beat can get tiring and frantic in equal measure; should you lose your concentration or get a little over excited, you might just find your Joy-Con flying out of your hand and smashing into your TV, through the window, or hitting a poor unsuspecting grandparent across the room.
This 'Just Dance 2019 Dance Band' aims to prevent these terrible occurrences from happening, however, fixing the Joy-Con to your wrist securely. Of course, players should be using the Joy-Con's safety straps at all times, but if your children (or you) refuse to do that, or even if you just want a break from having to hold a controller while playing, this does actually seem like a decent idea.
- Unique and exclusive design cuff for JoyCon Nintendo Switch in the colours of Just Dance 2019, the most popular dance game of its generation!
- No need to hold your Joy-Con, insert it directly into your Armband and dance freely.
- Ultra secure, the site has been specially designed to accommodate the Joy Cons and resists knocks and shocks.
- Band adaptable to all handle sizes (child and adult).
- The ultimate accessory to play Just dance on Nintendo Switch with total freedom of movement
The wristbands are available to buy now from Amazon UK for £13.05, with stock arriving on 11th November. That's not all, though, as the very same manufacturer is also releasing neon blue and purple silicon cases for your Joy-Con (matching the game's main colour themes), a Just Dance 2019 Switch case, and a funky Joy-Con grip and strap pack.
Do you know any Just Dance fans who might love some of these accessories this Christmas? Let us know if you'll be grabbing any of these products in the comments below.