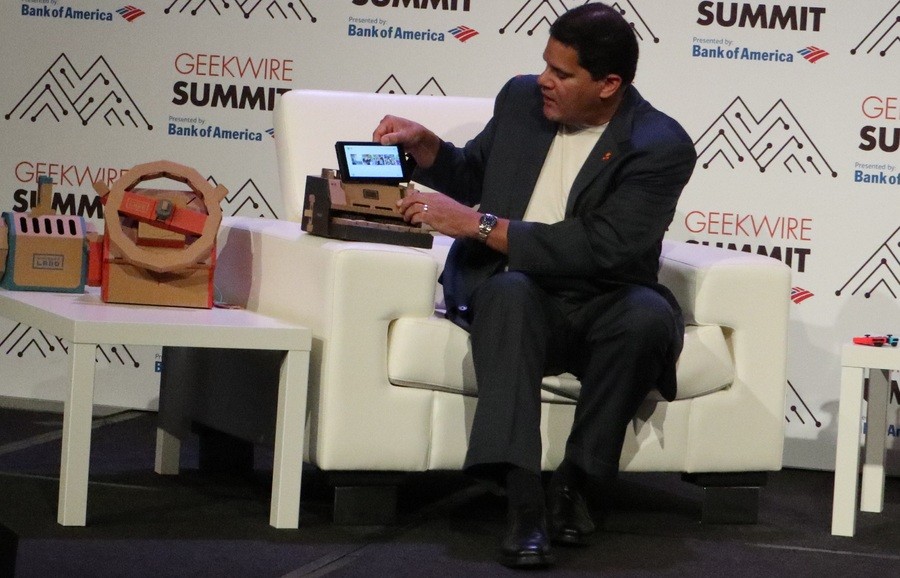 Nintendo of America's President and COO Reggie Fils-Aime touched a range of subjects at the annual GeekWire Summit in Seattle earlier this week. When he wasn't talking about the past, present or possible future of the company, he discussed how Nintendo would like to be defined.
In short, the Japanese company would like to be perceived as an entertainment company, rather than a video game one. He further elaborated on this by explaining how the company currently has three separate areas of business. The first is the dedicated video game business, the second is mobile gaming - "leveraging IP in a variety of ways" - and the latter covers theme parks and movies.
Reggie emphasised how Nintendo's efforts beyond the Switch and 3DS were considered as major drivers. Super Mario Run was used as an example of how Nintendo intends to deliver its IP to consumers in compelling ways in the future:
That's our vision for mobile: to deliver our intellectual property in compelling ways to consumers who may not have experienced those properties before. A belief that they'll come back, maybe buy a Mario T-shirt, eat that Mario cereal, or buy a Switch, because of affiliation and affection they have with that IP.
Reggie added the slow mobile rollout and lack of direct ports was intentional. He said creating unique experiences for mobile platforms was vital and the company had to be cautious along the way as it worked out how to monetise each app:
Home system games, if transplanted to a mobile device, wouldn't transfer as well. We needed to work through monetization... as we're driven to make money. And we needed to work through how to be effective on platforms and marketplaces that we ourselves don't own. That took time.
What do you think about the idea of Nintendo moving into the entertainment business and potentially branching out into multiple areas? Would you prefer it stuck with traditional video game development? Tell us below.
[source arstechnica.com]