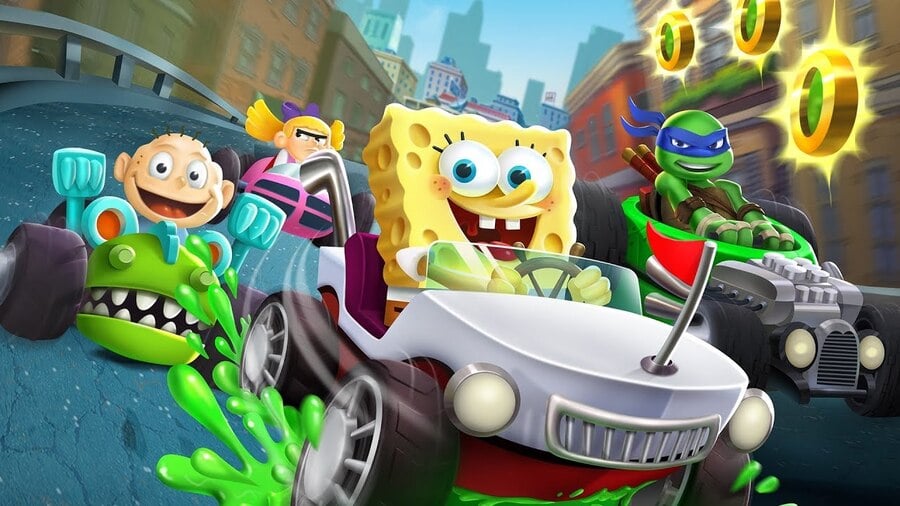 July saw the surprise announcement of upcoming Switch title Nickelodeon Kart Racers - a multiplayer racing game starring characters from 12 Nickelodeon series. Now, publisher GameMill Entertainment has shared some fresh details on some of the features that will be present in the game.
As it turns out, Nickelodeon's iconic green slime (which has been unashamedly poured over the heads of countless celebrities and kids on TV since the late '70s) will play a major part of the racing on each track. Players can fill their 'slime bar' by driving over the fluorescent green goo to activate speed boosts, and these slime patches come in many shapes and sizes. The patches are slippery, however, with the larger ones potentially causing your kart to transform into a jet ski to glide across.
If you're lucky, slipping and sliding across one of the slime patches could open up a new shortcut for you to exploit and - thanks to the slime valve and item boxes - you never know when you or your opponents might get slimed. It sure looks like you'll be getting your tyres dirty in this one.
If this isn't enough for you, though, feel free to check out the rest of the game's feature list below to see what else you'll be getting up to.
Key Features:
- Choose a racer from 12 of the most iconic characters: SpongeBob SquarePants, Teenage Mutant Ninja Turtles, Hey Arnold!, Rugrats and MORE!!!
- Race on 24 different Slimed-filled tracks including Bikini Bottom, NYC sewers, Tommy Pickle's house, Arnold's school and more!
- Awesome Co-Op and Local Multi-Player for non-stop action the entire family will love!
- Customisable Karts with multiple power-ups and special attacks!
- Team-based co-op multiplayer, players can perform devastating fused attack for TONS of FUN!
- Slime overload will have you turning you Karts into jet-ski racers!
As a reminder, the game launches on Switch on 23rd October. You can watch some of the chaos unfold in this trailer if you'd like to see more.
Are you excited for this one? Tell us below.