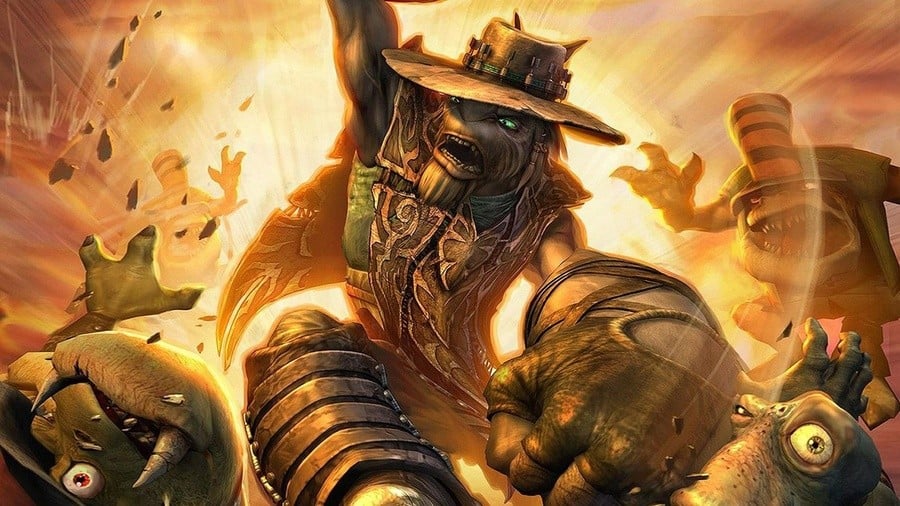 Nintendo has revealed that Oddworld: Stranger's Wrath is headed to the Switch, listing it as one of the many playable titles at this year's EGX event in the UK.
This marks the first time that the game will be playable on a Nintendo platform; the game originally released on Xbox in 2005 before seeing updated versions hit other consoles, too. A Wii U port of Stranger's Wrath was actually planned at one stage, although this project was put on hold in 2015.
The game follows the adventures of Stranger, a fearsome bounty hunter who must track down outlaws to collect bounties. The ultimate aim is to earn enough 'moolah' to pay for a life-saving operation, with both third and first-person perspectives being used for different styles of gameplay. The third-person sections are used for travelling long distances, jumping over platforms and melee-style combat, whereas the first-person areas feature ranged weapons.
Oddworld's creator Lorne Lanning had previously stated that he had "no faith" in the Switch, believing that it would follow the Wii U's early demise. It would seem that this view has turned around since, however, as the console is now clearly seen as a platform that would aid the game in terms of fresh sales. No release date has been given for this new release as of yet, but we'd imagine it can't be too far away considering that fans will be able to go hands-on with it next week.
If you want to find out a little more about the game, make sure to check out the trailer below. This was originally launched back in 2011 to support the PlayStation 3 HD rerelease.
Are you an Oddworld fan? Are you happy to see this arrive on Switch? Tell us below.
[source nintendo.co.uk]