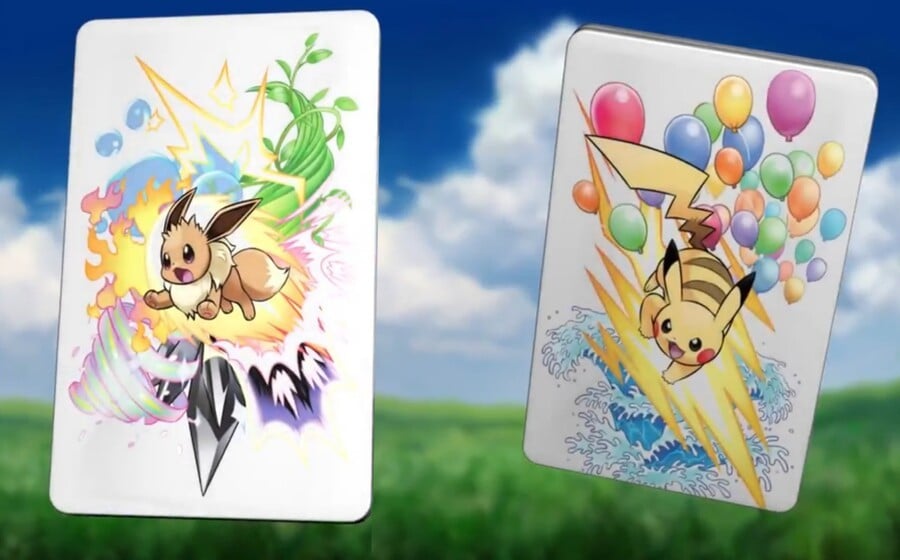 With Pokémon: Let's Go, Pikachu! and Let's Go, Eevee!'s Switch release drawing ever closer, more and more purchase options are starting to pop up online and at various retailers. One such option, in Japan at least, contains an exclusive steelbook, and we can now feast our eyes on the case in all its glory thanks to a new video.
First teased a couple of months ago, this case features the stars of each game surrounded by artwork on both outside covers - Eevee is placed on a background which represents all of its evolutions, and Pikachu's cover contains balloons and a wave, presumably referencing the Flying and Surfing Pikachu variants found across various products in the Pokémon franchise.
The duo is also featured inside, with one side given to each mascot. Check it out below.
The steelbook is actually exclusive to one specific retailer in Japan, making it even trickier for westerners to get their hands on one. This purchase option comes from 7-Eleven, featuring your game version of choice, a Poké Ball Plus controller, an acrylic keychain, and the steelbook. The set costs 9,980 yen (approx. £69 / $90) plus tax.
Would you snap one of these up if it was available in your country? Or do you tend to import your favourite products from Japan anyway? Let us know your thoughts on this steelbook in the comments below.
[source youtube.com]