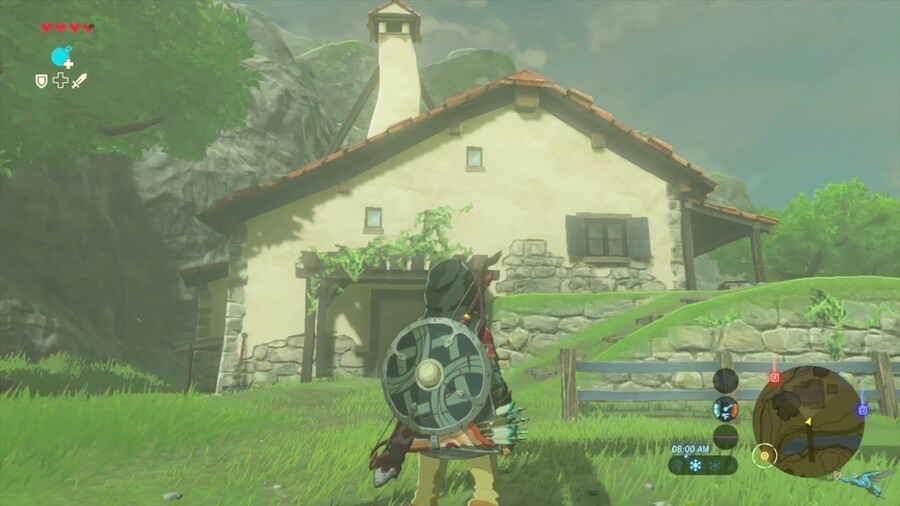 Buying your own humble abode inside a video game can be a very satisfying part of the experience, and in some cases, can actually be at the centre of the game's entire makeup. Adding customisation options to your new build only adds to the excitement, and we can only begin to imagine the vast amount of virtual homes that are currently being bought, sold, and renovated as we speak.
As it happens, London & Country Mortgages - a real, UK-based mortgage broker - discovered that every month, more people use Google to search for advice on buying a house in The Elder Scrolls V: Skyrim than they do in real-life locations like London, the UK, France, Spain, and America. To explore this idea further, the company has been hard at work on a project that works out the actual real-estate value for some of our favourite gaming worlds.
One such world is Hyrule, specifically the one found in The Legend of Zelda: Breath of the Wild. Of course, in this iteration of Hyrule, only one house is actually up for sale at the time of Link's quest - the one in Hateno Village. You may remember having to hand over some Rupees and 30 bundles of wood to have your very own house be built. The base cost of this house turns out to be 3,000 Rupees (after receiving a nice discount from Bolson), with a total of 4,400 being needed for it to be fully furnished.
It turns out that the Hyrule to real world conversion rate would be rather highly in our favour, with house prices in that region being just a tiny fraction of the terrifyingly large rates we're faced with in real life. It's a decently sized home, far away from any neighbours and noise, but it would only set you back £51,637 / $69,710.
So how was this worked out? Well, London & Country compared a whole range of items that are both purchasable in Hyrule and the UK, finding an average conversion rate that took all of this into account. For example, the Raw Prime Meat that's purchasable in Breath of the Wild for 15 Rupees was compared to an organic fillet steak from a UK market which was on sale for £12.75. With lots of other items also compared, the average conversion rate showed that one Rupee equals roughly £1.03.
The study goes into more detail on various other games, too, such as Skyrim and Stardew Valley - which is much more realistic by today's standards. If you want to check it out in full, you can find it here.
The lesson to be learned here? When you're ready to buy your first house, move to Hyrule!
[source landc.co.uk]