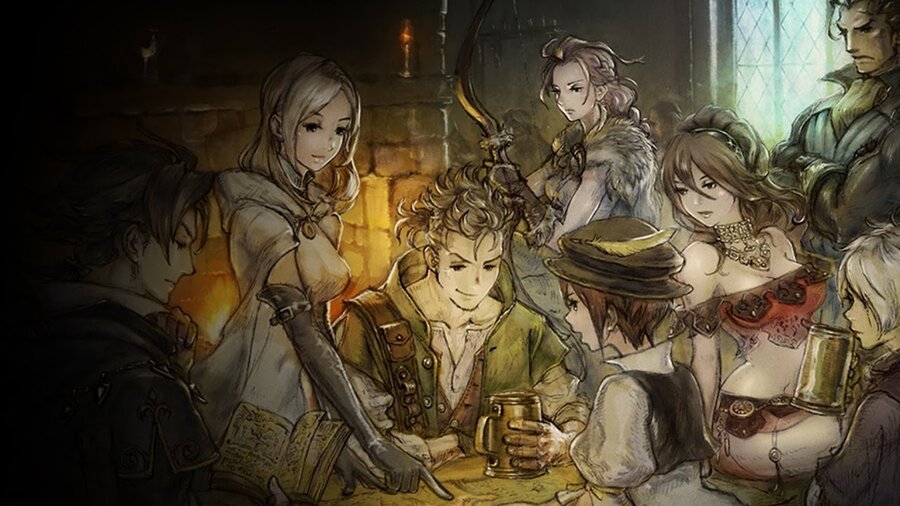 It's time for the weekend, so that must mean it's also time for this week's Talking Point! Team Nintendo Life has plenty of games on its collective 'to do' list, ranging from retro classics to the usual appearance of mainstays Splatoon 2 and Mario Kart 8 Deluxe. There's also likely to be a fair few mentions of Octopath Traveler because, hey, we really love our JRPGs. Enjoy, and have a great weekend!
Dom Reseigh-Lincoln, editor
This weekend I've got a veritable smorgasbord of games to clear before those precious few days of quiet are over. I'm still clearing up some side-quests in LEGO The Incredibles, as well continuing to swoop and shoot my way through Manticore: Galaxy on Fire. And yes, I'm almost certainly going to fire up Paladins at some point because, well, I'm still obsessed with it.
Now I'm moving over to reviews, I'll also be spending a great deal of time with a handful of titles for review. I won't say what they are - a little mystery never hurt anyone - but I'm looking forward to giving these reviews my full and undivided attention.
Richard Atkinson, contributing writer
Instead of being confined to the comforts of my own apartment, I'm travelling four hours up the UK to enjoy a weekend of stellar gaming with a group of friends. What's whetting my appetite, though, is the fact we're off to a Stag Do - AKA Bachelor Party - with a gaming twist. I'm told that a Town Hall is going to be decked out with multiple screens, consoles and other gaming goodies for all to enjoy. So what am I playing this weekend? Well, apart from some Table Top Mario Kart 8 Deluxe and Splatoon 2 (that darn Octo Expansion will NOT get the better of me!), it's a surprise. But it'll involve beer... and lots of it.
Austin Voigt, contributing writer
This weekend, I plan to start my journey in Octopath Traveler (like every other self-respecting fantasy RPG fan). For me, more than most, visuals are the defining characteristic of a game - even slightly more than the actual gameplay (don't @ me). This is probably because of my lame art background, I can't help it (unpopular opinion: the grainy graphics in Sun/Moon almost ruined the games for me). However, Square Enix & Acquire have quite literally invented a new graphical aesthetic with Octopath Traveler, and I'm in awe. I'm just going to end up staring at it for hours.
I'll also be playing a little Mario Kart 8 Deluxe with my younger brother - who, upon graduating uni, moving away and getting his first real job, finally bought himself a Switch! I'm a very proud older sister - and I plan to kick his butt in every game we play together online, just to make sure he doesn't forget that I'm the OG.
Dave Frear, retro reviewer
Well, I expected to say I'd be getting stuck into Octopath Traveler this weekend, but as I still haven't got around to Wolfenstein II: The New Colossus, I'm holding off purchase for a bit. I suspect I'll play a bit of Fortnite to see if the newly added motion controls will help me to victory. Or maybe I'll just prat about in a golf cart. In other news, I've been playing Samurai Shodown V. Not the best of the Shodowns, but its time-based scoreboards do mean the online leaderboards work better than they do with most of the Neo Geo fighters on Switch. I'll be looking to improve my times this weekend, although usually when I try something like this for WGAYPTW I end up a good chunk away from my own best, never mind anyone else's.
Glen Fox, guides editor
This weekend I'm going to dive into Octopath Traveler and Mario Tennis Aces – it really is about time I got stuck into that! I'll also no doubt play a bunch of Fortnite – I really want to stay on top of the challenges this season, even though I don't see myself doing it. Just don't have the time to spare to dedicate to just a single game. Even one as awesome as Fortnite! I also grabbed Slime-San in the sale because it's right up my street, and have Golf Story glaring at me…
Ryan Craddock, news reporter
If you've been regularly reading my entries for these Talking Point features over the last few weeks, you won't be surprised to hear that Fortnite's recent bump to Season 5 has got me all giddy, excited, and hopelessly addicted. I've decided to take the plunge and treat myself to a Battle Pass, opening up a whole new wave of challenges and cosmetics that make it much more fun than before. I'll no doubt be spending the weekend trying to collect as many goodies as I can.

Elsewhere, I might take a quick dip into Runbow's adventure mode once again. The game's aesthetic is so pleasing to the senses that I can't help going back for more. Bring it on!
Gonçalo Lopes, contributing writer
What a pickle! You spent years with about one good (if any!) JRPG per year, something that comfortably allowed one to properly enjoy it from beginning to end. But behold my current predicament as I am now facing three of them at the same time: Sega's Shining Resonance Refrain with free Japanese voices DLC, the recently patched Ys VIII: Lacrimosa of Dana now with free Japanese voices DLC (notice a pattern here?) and my number one GOTY candidate Octopath Traveler (with default Japanese voice option). 
While I decide in what order I will tackle these mammoths in the six months that are left in 2018, I will also be firing up International Superstar Soccer Deluxe, Sensible Soccer, FIFA 95, International Superstar Soccer 98 among other classic footie titles to play out that France v Croatia friendly match on Sunday.
Which games are you playing this weekend? (488 votes)
Mario Kart 8 Deluxe

5

%
Splatoon 2

9

%
Splatoon 2: Octo Expansion

5

%
Octopath Traveler

28

%
LEGO The Incredibles

0%

Manticore: Galaxy on Fire

0%

Paladins

2

%
Wolfenstein II: The New Colossus

6

%
Samurai Shodown V

0%

Mario Tennis Aces

6

%
Golf Story

2

%
Fortnite

7

%
Runbow

0%

Shining Resonance Refrain

3

%
Ys VIII: Lacrimosa of Dana

5

%
Something else (comment below)

21

%
Please login to vote in this poll.
Thanks for reading. Leave a vote in the poll above and a comment below with your gaming choices over the days to come...