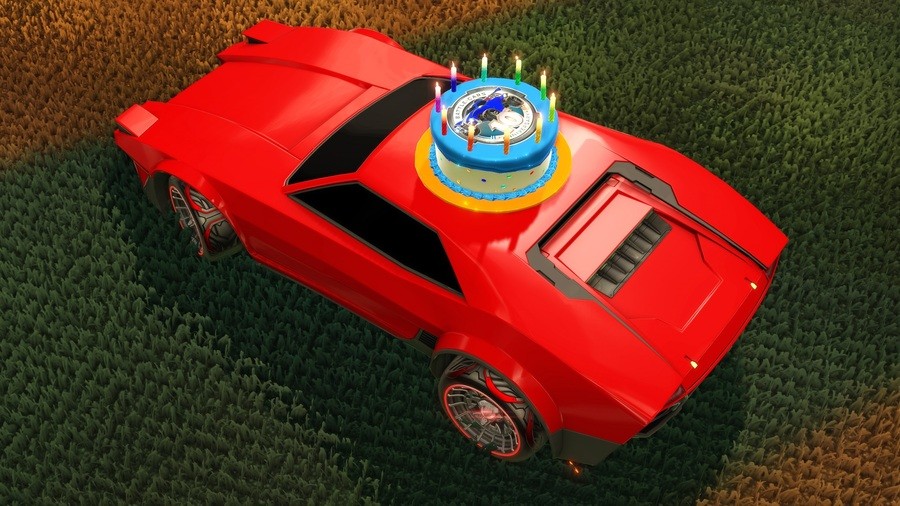 Rocket League is almost three years old now - although not on Switch, of course - and to celebrate, developer Psyonix is hosting an in-game anniversary event featuring a whole lot of fun.
The event will run from 9th July to 23rd July and is actually a combined celebration of Rocket League's third anniversary, and Supersonic Acrobatic Rocket-Powered Battle-Cars' tenth anniversary (the game's predecessor). It will allow players to obtain a whole bunch of new customisation items by redeeming SARPBC-themed 'Balloons' that can be earned by playing matches online. This includes items such as the little cake hat seen above and more.
Perhaps the most interesting inclusion, however, is the addition of 'Throwback Stadium', inspired by SARPBC. As you can see, the goal layout is completely different to how it is usually found in Rocket League, with a path running behind the goal and, crucially, no giant wall to help guide the ball into the net. The ball's weight will also be adjusted on this particular stage to recreate the play-style of Rocket League's older brother.
If you want to jump in and get involved with the celebrations, here are all the times you need:
Anniversary Event Start Time: Monday, 9th July, 10am PDT (1pm EDT, 7pm CEST)
Anniversary Event End Time: Monday, 23rd July, 5pm PDT (8pm EDT, 2am CEST on 24th July)
Anniversary Event 'Balloons' Expire: Monday, 23rd July, 5pm PDT (8pm EDT, 2am CEST on 24th July)
Will you be giving the new stadium layout a try? Let us know if you like to play a game or two of Rocket League in the comments below.
[source rocketleague.com]