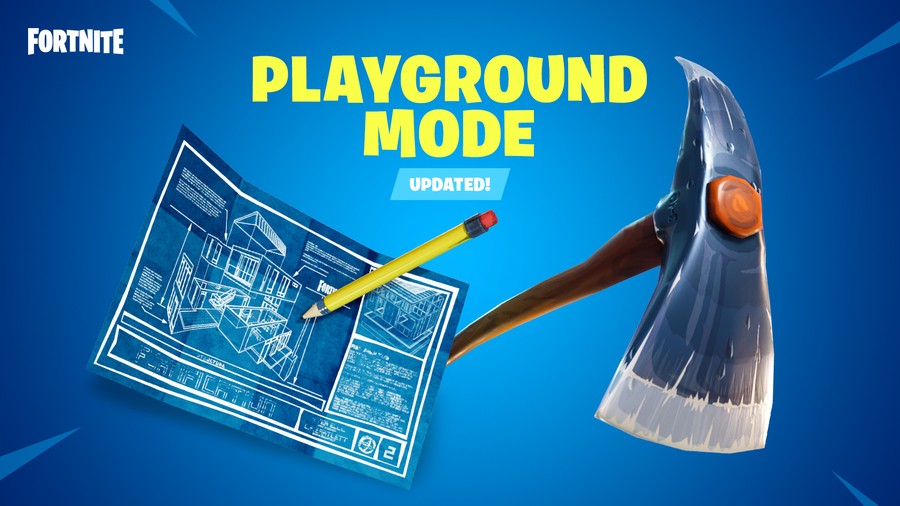 Fortnite is being updated to Version 5.10 today, bringing back the easy-going Playground mode and introducing a couple of new elements for good measure.
The Playground mode will be back in the game from Wednesday 25th July with new team select options to let you and your squad set up team battles for practice and training. Players can now switch teams in-game, allowing you to either join the same team to work together creatively, or join separate teams to practice fighting each other.
We've already seen some wonderfully creative things take place when the Playground mode is up and running - like this Mario Kart track parody - so we're expecting lots more shenanigans to take place once again. The mode is once again being treated as a limited-time affair, but will keep returning with new additions and tweaks.
Elsewhere, the Compact SMG has been added to the game. Coming in both Epic and Legendary variants, this weapon does 23-24 base damage, uses light ammo, and will have a 50 round capacity. Slurp Juice has also seen a change, now granting 1 health every 0.5 seconds, up to a total of 75. If health is full, shield will be granted instead.
Finally, the game's birthday celebrations will also be kicking off today. Birthday cakes will be placed around the map with consumable slices next to them, giving players +5 health and +5 shield instantly when consumed. There will also be several birthday-specific in-game challenges that will grant you birthday-themed rewards.
Will you be jumping into Fortnite today to celebrate the game's first birthday? Let us know how you've been getting on with the game with a comment below.
[source epicgames.com]