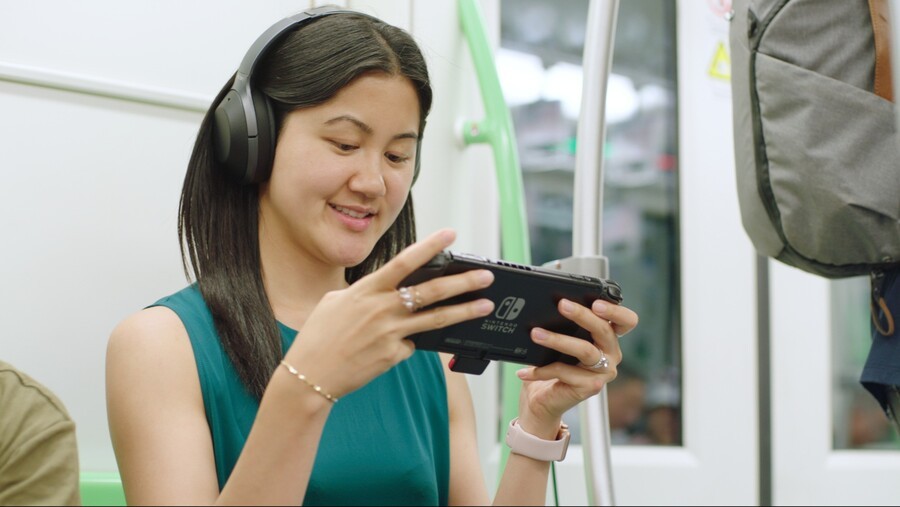 Human Things has launched a new Kickstarter campaign that will be music to the ears of any Switch owner who craves wireless audio on their console.
Genki is the first USB-C Bluetooth transmitter uses the latest Bluetooth 5.0 technology and Qualcomm's aptX Low Latency codec to deliver low-latency audio using headphones or speakers - you can even attach two pairs of headphones simultaneously.
A simple press on the left button and it lights up to signal a connection to the first paired set of headphones, while a press on the right button connects another pair for multiplayer games. The adapter doesn't requite its own power source as it consumes just 15milliwatts, less than 1 percent of your battery, which actually means you'll get more stamina than when using the console's standard speakers. 
While it uses the USB Type-C port, Genki doesn't deliver any power to the console and therefore won't brick or damage your system, unlike some third-party docks. A dock adapter will be available that allows you to use the device when playing in docked mode.
Genki crowdfunding campaign runs until July 28th and has a funding goal of $30,000. Backer prices start at $39 (the early bird price is even lower at $35) but the final product will retail for $50. Should the campaign be successful, the first units are expected to ship to backers in October 2018. 
Here's what Eddie Tsai, CEO and co-founder of Human Things, had to. say: 
We thought wireless headphones had become the norm, so we were really surprised that the Nintendo Switch was still very much in the cable era. I love the console but having to pack a second pair of cheaper wired headphones became a pain in my daily commute. GENKI was designed to be the simple solution to everyone's Nintendo Switch Bluetooth audio frustrations.
The guys at Human Things have been kind enough to prepare a list of frequently asked questions which will hopefully address any queries prospective backers might have:
Will this brick my Nintendo Switch?
Short answer, no. The long answer is that Genki does not provide any data or power (in fact, it has no battery) to even possibly damage the console. There has been some cases of bricked consoles (Switches that no longer work) using third party docks. The root causes has been confirmed to be faulty resistors found in USB-A to USB-C power cables. 

Does it work with the Nintendo Switch dock?
With the Genki dock adapter you can simply plug Genki into any of the three USB ports of the official Nintendo Switch dock.
Does this work with my [insert name here] headphones?
As long as it's a Bluetooth audio device it should be fine. The simplest test is if it works in your phone it will work with Genki. It should be noted there are some wireless headphones that are not Bluetooth.

Can't I just use one of the cheaper headphone jack transmitters on Amazon?
You could but almost all of them were made a long time ago as a way to play iPod music on your car stereo and have been rebranded to say they work for gaming. Using the headphone jack introduces a lot of issues including static noise, charging, and most important latency. And we think they're all designed to be pretty ugly but it's because they need to house a battery and an ADC (analog digital converter).

Why didn't you design passthrough charging?
Genki is detected as a USB audio device on the Switch and receives a small amount of power and audio data, unfortunately in this state it cannot simultaneously deliver power in/out through the same port.
Will this work on my third party case or stand?
We designed Genki to fit flush with the Nintendo Switch. We can at a special request add a longer USB Type-C plug to extend the gap to make them compatible with your case but we cannot ensure fit or sturdiness of such a modification. As for stands, Genki measures roughly 1.4" wide or 3.5cm which may require some modifications to existing stands.
Does this sound like something you'd be prepared to back? Let us know with a comment.
[source kickstarter.com]