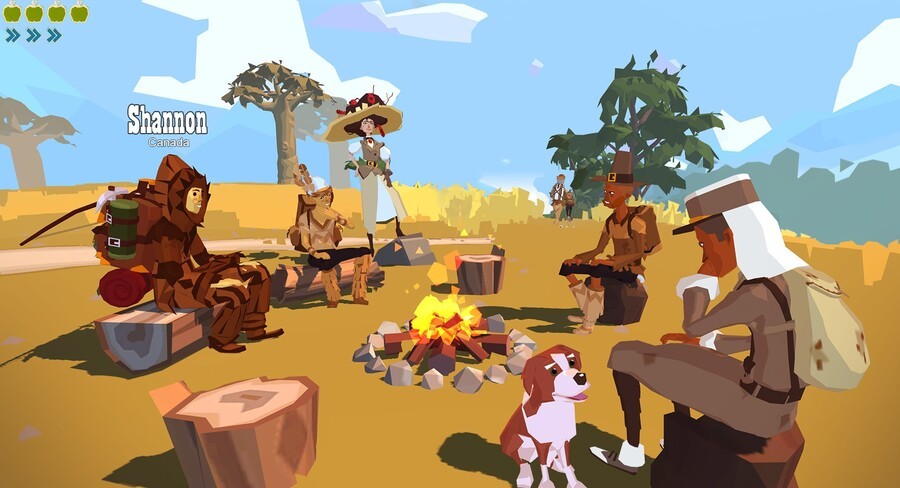 Thursday has rolled around again, bringing with it not just the Nintendo Download updates for the eShops in the West, but also a brand new Nintendo Direct. Talk about a stacked day of Nintendo goodness. So to get you in the mood for all the announcements and reveals to come (or to help you relax after it's all said and done) we've got every new game and update on the North American eShops.
Switch eShop
The Trail: Frontier Challenge (22Cans, $14.99) - Are you ready to climb the tallest mountains, wear the finest clothes, and earn a fortune beyond compare? Then welcome to the New World! Welcome to The Trail: Frontier Challenge!
TurtlePop: Journey to Freedom (DigiPen Game Studios, $19.99) – TurtlePop: Journey to Freedom is a platform puzzle game that introduces Bebo, Deephi, Slimmie, Smarts, Willis and Sparky the Turtle. Master the gameplay with multi-character control and turtle-linking, environment manipulation and item deployment and match-three mechanics that make challenges even more fresh, intense and fun. TurtlePop: Journey to Freedom launches on 9th March.
World Conqueror X (CIRCLE Ent, $8.99) - Across dozens of battles and multiple modes you manage a diverse range of troops and military units in turn-based conflict, utilizing advanced strategies such as air defenses, while always being mindful of battlefield environments and cities. 
ACA NEO GEO REAL BOUT FATAL FURY (HAMSTER, $7.99) - Using the previous system as a base, isolating the Sweep Button, the inclusion of Combination Attacks, and other elements such as ring outs make for an even speedier and tempo-based play style. Sixteen fighters battle it out to see who is the strongest.
Bit Dungeon Plus (Dolores Entertainment, $8.99) - Explore randomized dungeons and hack and slash your way through dangerous bosses. The difficultly increases as you become stronger and stronger. Build your character how you want with deadly passive abilities.
Bleed 2 (BOOTDISK REVOLUTION, $14.99) -  A furiously fun and fast-paced arcade action game, Bleed 2 welcomes back pink-haired heroine Wryn, the world's greatest – and only remaining – hero, as she fights to defend the globe from an invading force of villains. Master the art of air-dodging and bullet-reflecting to stylishly take down a relentless barrage of bad guys and bosses (and naughty kittys!), and make sure Wryn lives up to her title as the Greatest Hero of All Time! Read our review.
EARTHLOCK (Snowcastle Games, $29.90) - Enter a beautiful world haunted by its fateful past and join a party of unlikely heroes on their journey to rescue Amon's uncle from an ancient cult and uncover the secret of EARTHLOCK.
I, Zombie (Awesome Games, $4.99) - Command your zombie horde and infect the whole world! Fool the military and ensure no one stays safe – it's the Zombiepocalypse, with built-in level editor!
Midnight Deluxe (Petite Games / Ratalaika Games, $3.99) - In this golf-like game with a perpetual darkness setting, your task is to guide a little square-shaped fairy, named Midnight.
Steredenn: Binary Stars (Pixelnest, $12.99) - Steredenn: Binary Stars is an award-winning mashup of a classic shmup and a rogue-like, carved in big beautiful pixels, with insane boss battles. Fly solo or co-op with a friend, fighting off the worst scourges of space in a never-ending struggle for survival.
The Men of Yoshiwara: Ohgiya (D3Publisher, $14.99) - "The Men of Yoshiwara: Ohgiya" is a popular romance game in Japan aimed at a female audience. Step into the pleasure district of Yoshiwara with the roles of male and female reversed and enjoy a heart-rending love story.
A Hole New World (Dolores Entertainment, $9.99) - The city is being invaded by monsters from the Upside Down World! You, the Potion Master, must defeat evil all alone, with no tutorials or "Easy Mode" to assist you. You'll have to rely on the help of Fäy, your companion fairy, and your potions! Read our review.
Coffin Dodgers (Milky Tea, $12.99) – Armed with a variety of homemade weapons and gadgets, battle your way through a 13-race championship or face your friends in a 2-4 split-screen multiplayer race, where only the most skilled racer will survive. Available 13th March.
Danmaku Unlimited 3 (Doragon Entertainment, $9.99) – Take to the skies once more as the last defender of humanity against overwhelming odds! Lovingly built to be enjoyed by newcomers and genre veterans alike, Danmaku Unlimited 3 is a perfect medley of the best aspects of classic Bullet Hell shooters wrapped up in a modern and approachable package. Available 13th March.
Flinthook (Tribute Games, $14.99) – Live the life of space captain Flinthook! Armed with your mighty hookshot, your uncanny slow-motion powers and your trusty blasma pistol, plunder and fight your way through an infinite variety of randomly-assembled spaceships for treasure, loot and fame! Available 9th March.
One Eyed Kutkh (Sometimes You, $4.99) – Available 9th March. A single traveler on his way home crashes on a mysterious planet. To continue his journey, he'll have to get to the ninth heaven, deceive the Sun and the Moon and steal their space-boats.
Spiral Splatter (Sometimes You, $4.99) – Put your problem-solving skills to the test as you navigate over 100 levels and 11 different stages full of perplexing puzzles. Watch out for moving obstacles as you maneuver through each level. Think fast, if you're too slow, the ghost may catch up to you. Hustle to reach the finish before your time is up! Available 13th March.
Spy Chameleon (Unfinished Pixel, $7.99) – Spy Chameleon is an arcade-puzzle game where the player must avoid being seen thanks to the chameleon's ability to change colors and camouflage. Available 9th March.
3DS eShop
BRICK THRU (RCMADIAX, $1.49) - The player must quickly dash left or right finding an open space in the game board as the oncoming bricks try to knock you out. See how long you can go and rack up a high score! Endless fun for everyone!
Nintendo Mobile events
Super Mario Run MAR10 Day Discount: Take advantage of a 50 percent discount on the Super Mario Run game from 10th Mar, 2018, through 25th Mar, 2018. Time your taps to pull off stylish jumps, midair spins and wall jumps to gather coins and reach the goal. You can download and enjoy a portion of Super Mario Run for free on the App Store and Google Play.
What are you downloading this week? (247 votes)
The Trail: Frontier Challenge
5%
ACA NEO GEO REAL BOUT FATAL FURY
4%
Steredenn: Binary Stars
7%
The Men of Yoshiwara: Ohgiya
0%
TurtlePop: Journey to Freedom​
0%
Please login to vote in this poll.
So that's your lot for this week. Be sure to add your vote to the poll, and sound off below on the games you'll be picking up this week from the eShop of your choosing...