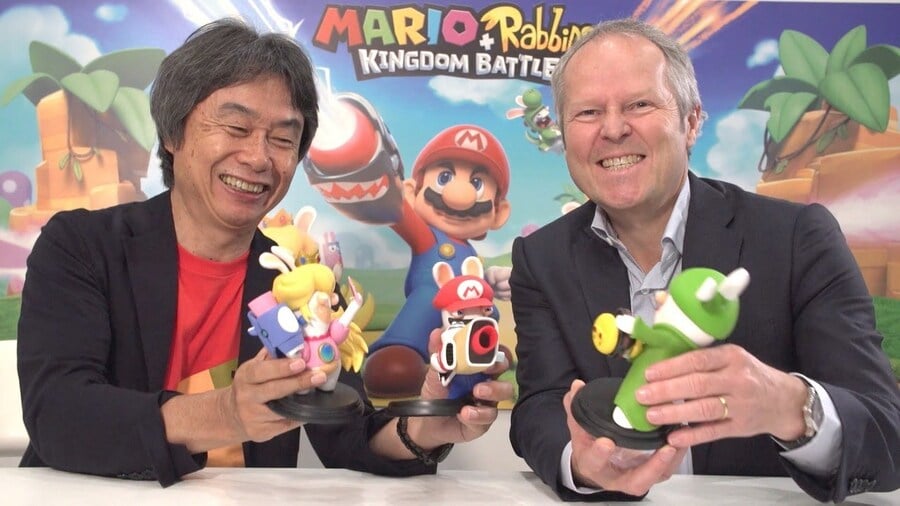 Mario + Rabbids Kingdom Battle is a rather odd pairing, but the team behind the game are pureblood Nintendo fans, and what we've seen of the game so far gives us much reason to be optimistic.
For Ubisoft Milan creative director and a lifelong Nintendo fanboy Davide Soliani, getting to work with Shigeru Miyamoto - perhaps the most famous game designer in the world - is a dream come true. He tells Gameindustry.biz about the first time he met the legend himself:
My first project was Rayman for Game Boy. My second game was Jungle Book: Mowgli's Wild Adventure, also on Game Boy. I was super proud of it. I remember a review saying that it seemed like a Nintendo game. So the first time I went to E3, I brought my Jungle Book game and I met Miyamoto. But I was so shy, like a little kid, that I just gave him the game and asked him to sign it, without even saying hello, presenting myself and explaining that this was my game. So, Miyamoto-san looked at the box like: 'Hmmm, this isn't my game.' But he signed it anyway because he is such a gentle guy. When he gave me the signed game, which of course I still have, I went out of E3 and cried like a baby.
The next time he met Miyamoto, Soliani went to extreme lengths to track him down:
I called up every four or five-star hotel in Milan, pretending to be part of the team, to find out where he was staying. It was a Saturday, it was raining, I had a fever, but I didn't care. I waited there for eight or ten hours. I had brought with me all the games from Ubisoft Milan and I gave them to him. He said goodnight to us in Italian. It was a magical moment. I'm clearly quite crazy. I am a fan. I recognise that it's not super rational.
Amazingly, former Rare composer and Yooka-Laylee tunesmith Grant Kirkhope's first encounter was perhaps even more embrassing:
Yeah... my Miyamoto story is a bit worse. It was when E3 had moved to Atlanta [1997]. Nintendo had a party in a museum, and we all got hideously drunk. I saw [Rare founder] Tim Stamper talking to Miyamoto, and I introduced myself as the composer of Banjo-Kazooie, totally drunk. He just looked at me with the blankest expression, he couldn't tell what I was saying. A while later, I was in the bathroom - and this is embarrassing - I was trying to pull down [Donkey Kong 64 designer] George Andreas' trousers for a joke. I was on my knees and I looked up to see Miyamoto staring down at me. That was the last time I spoke to him.
Despite the awkward first encounters, both Soliani and Kirkhope admit that joining forces with Miyamoto and Nintendo on the game has been a blast, and that working together has also given them unexpected moments of joy.
Kirkhope explains:
Davide said that it would be great if we could use the castle theme from Mario 64. That's my favourite piece. I started at Rare in 1995 and that was one of the first games I got when I started. For me to get to play with that tune was just breathtaking. I did this thing where I cut it into little bits and used it with my own tune. I sent it to Davide and he was in tears. He's always in tears.
The full interview is well worth a read, and we don't know about you, but we're super excited about this collaboration now. Let us know your thoughts by posting a comment.
[source gamesindustry.biz]