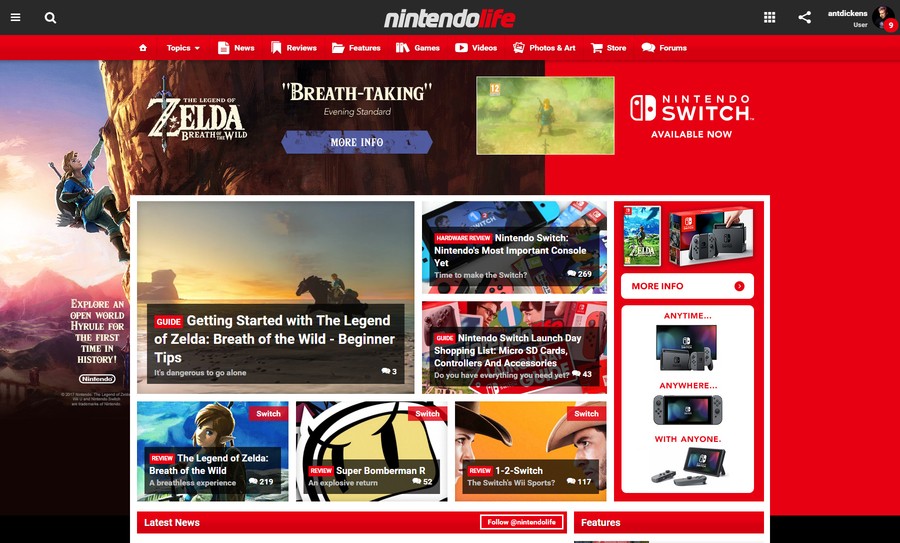 Update: Seeing as so many comments revolved around the ability to have a view where all articles are displayed in the same way, chronologically, we've added a new timeline view that is dedicated to this purpose. We'll monitor usage of this feature and if popular perhaps make this an option for the homepage. The timeline view is linked on the homepage and news page. Thanks for the feedback!
Original Article:
Regardless of what happens in the coming months today is a significant day for Nintendo. Just over 10 years ago there was a Revolution in gaming that was called Wii. It was that console that kickstarted our founder, Anthony Dickens, into setting up a website he called Nintendo Life.
So, we're red now
The logo, design and branding for said website had always taken inspiration from Wii and used the distinctive white and blue colours synonymous with the system. Whilst our logo has had some subtle changes over the past 10 years our default colour scheme has not, "Wii blue or go home" we said.
Last year we noticed that Nintendo have reverted its core branding back to its hey-days with a strong red. We figured that "NX" would continue in this vein and sure enough, it did. Nintendo Switch was announced with a lovely red and white logo.
Seeing as we're a website about Nintendo we discussed the possibility of changing our core branding to red as it was probably time to leave behind the legacy of Wii and Wii U once Switch arrived. The conversation didn't last long, we were unanimous in favour of the change and we really hope you like it too.
We've also updated the design
Those of you who visit our sister PlayStation site Push Square will have already seen that we rolled out a new design around a month ago, which we have now adopted on Nintendo Life.
In lots of ways the design is very similar to what you are used to on this site, the article pages are pretty much identical, we've just added some extra bits in the right hand rail that should be useful - especially on reviews and news articles as this contains info on the featured game.
The biggest change is on the homepage and other listing pages. When we launched our last redesign just over a year ago the area that drew the largest amount of criticism was the "tile" format of articles that didn't include the lead-in text.
We accept that perhaps this wasn't the best, so we've changed back to a format much more like the previous generation of the site that lists things a bit more traditionally. We've also grouped content by day and highlighted the most popular articles on previous days, meaning if you've not visited for a few days it's super easy to get back up to speed. The homepage also contains almost three days worth of content - much more than the version we've just changed from.
The mobile site has also had a big update, gone are the full width pictures in listings making it much quicker to scan through lots of articles. The "Featured Articles" is now present at the top as a slideshow, again making it easier to find new stuff.
There's more to come
Whilst there are plenty of other little changes (eg, table view is now back on game listings) we still want to hear your feedback. We've got heaps of other changes we plan to implement in the coming months, but please tell us your ideas and we'll see what we can do.
Let us know what you think about the new branding and your ideas in the comments below, (be gentle).