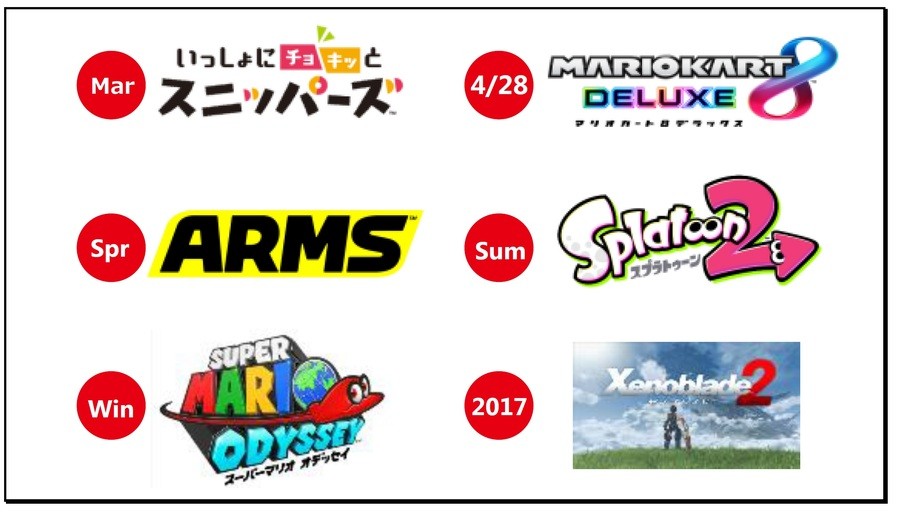 One of the (arguably justified) criticisms levied against the Switch after its reveal a couple weeks ago was that its initial software lineup for launch seems to be a bit anemic. Granted, The Legend of Zelda: Breath of the Wild is arguably all that's needed to send the console rocketing off shelves, but it remains to be seen whether the handful of other titles will be equally must-have games. In the latest financial results briefing, Nintendo president Tatsumi Kimishima addressed these concerns head on, explaining the company's reasoning.
The Wii U was a painful lesson for Nintendo that a continuous stream of top notch games are essential to the success of a platform; no doubt many remember that there were gaps of several months between major releases, even in the Wii U's prime days. It seems that the launch line up is weaker for the Switch, then, in order to ensure that games are released at an even pace throughout the year. Here's what was said:
Here are the announced first-party titles that will follow the system launch, releasing through 2017 in Japan. Some of those who have seen this lineup have expressed the opinion that the launch lineup is weak.
Our thinking in arranging the 2017 software lineup is that it is important to continue to provide new titles regularly without long gaps. This encourages consumers to continue actively playing the system, maintains buzz, and spurs continued sales momentum for Nintendo Switch.

For that reason, we will be releasing Mario Kart 8 Deluxe, ARMS, which is making its debut on the Nintendo Switch during the first half of 2017, and Splatoon 2, which attracted consumers' attention most during the hands-on events in Japan, in summer 2017. We believe that these titles exemplify the concept of the Nintendo Switch, which is to be able to play anywhere with anyone and at any time, and will expand and invigorate competition between players.
What do you think? Is this the right strategy? How do you think this will pay off? Drop us a comment in the section below.
[source nintendo.co.jp]