We're a bit late to the party with this one, but for anyone who was worried that the Nintendo Switch might run quite hot during prolonged gaming sessions, this will come as welcome news nonetheless.
Imgur user throwmeawaywouldyoukindly helpfully took a thermal imaging infrared camera with him to a Nintendo Switch hands-on event (as you do) and captured a series of fascinating images which give us an insight into how hot the Nintendo Switch may become during use.
Let's take a quick look at some of the findings: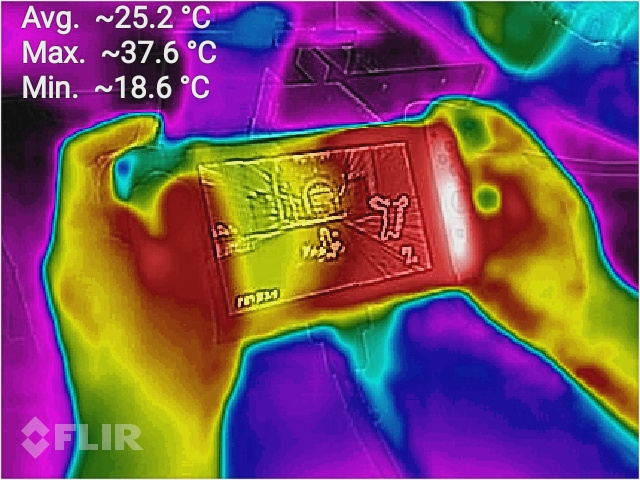 Mario Kart 8 Deluxe - Avg. 25.2°C Max. 37.6°C Min. 18.6°C.

It did not feel that warm to the touch and the game was running really really smooth, you were to engaged in the game to think about the unit or how it felt in you hands. You can clearly see the CPU/GPU on the right side of the unit behind the screen. Working hard under 40°C.
Snipperclips - Avg. 24.3°C Max. 35.7°C Min. 19.6°C.

Standing on its own while being connected to a charger. You can really see how the right side (no joycon connected) is transferring the heat generated from the CPU/GPU to the right side where the Joycon holder is. Heat transfer to the front of the device achieved more easily than to the right side where the joycon gets attached.
Splatoon 2 - Avg. 21.2°C Max. 34.5°C Min. 13.8°C.

Undocked while being connected to a charger. The game looked really good in handheld mode (forgot if it was mirrored to the screen in front of me). I took the picture a bit to close, there are two cameras next to each other. One for heat + one for normal photos. That's why the picture looks weird.
Of course temperature readings in Celsius might not mean much to everyone reading this, so Fahrenheit fans make sense of the numbers with this handy online convertor.
We've seen from teardown photos of the Switch that it contains a small fan so this might be lending a hand in when the going gets tough. Let us know what you think about these findings with a comment below.
[source imgur.com]