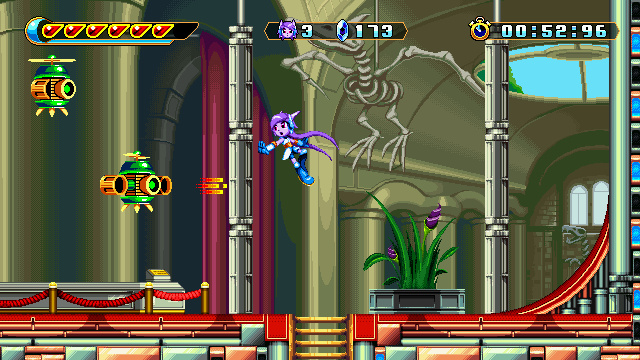 It was in late 2015 that Freedom Planet 2 was confirmed, and at the time it was stated that a 'Nintendo' platform was planned after PC / Linux / Mac, which may well mean Nintendo Switch. We'll see in time, but there has been a bit of news around the title over the past couple of weeks.
First up, a demo - called a 'Sample Version' - is heading to PC by late January, with all playable characters included; it's also going to be shown at PAX South between 27th-29th January. As a further sign of progress some videos have also been published - so far they provide looks at Lilac and Carol in action.
Lilac has received the least changes from the first Freedom Planet, but she still has some new tricks up her sleeve! Her Boost Breaker lets her jump out of her boosts while leaving behind a damaging explosion. She also benefits greatly from the new Guarding mechanic - which allows you to block/parry enemy attacks with proper timing - as well as Reviving, which lets you spend an extra life on the spot to get back up. (Careful though - you'll still go down in one hit!) Finally, Lilac can gain access to a set of Wing Gliders later in the game that enhance her Dragon Boost.
Carol's back, and she's got some new tricks up her feline sleeves! Her Jump Disc lets her slice up enemies from a distance, and she can home in on its location for extra damage. She can also throw the disc upwards to reach new heights. Combined with her wall jumping, she has the most vertical mobility of any character in the game. She's also been training in Bike Fu and has a number of new, hard-hitting attacks while riding her motorcycle. She can even throw it just like her disc!
The third confirmed character, Milla, will no doubt be shown off soon.
It's looking hugely promising, especially for those that are fans of the original. Do you hope to see Freedom Planet 2 on Switch?
[source freedomplanet2.com]