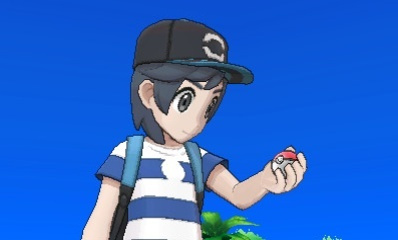 S.O.S. Battles are the most noteworthy new battle element in Pokémon Sun & Moon because, well frankly, you will continually see them during your gameplay.
So what are they?
As you are battling a Pokémon, it will often call for help from another Pokémon, usually one of the same species, that will join the battle and give you a bigger challenge. Each Pokémon has a different chance of calling an SOS Battle, with Pokémon such as Pikipek being common while others such as Dratini are unlikely to put out a call. Totem Pokémon will always call for help as well.
This may seem like an annoying feature, and in some ways it can be, but SOS Battles provide a massive amount of perks, bonuses and even Pokémon to find, so it's always worth doing it. However, there are ways to stop it. Some Pokémon will never call an SOS Battle while the others won't call for one when afflicted by a status condition such as Poison, Paralysis or Sleep. This means you can catch a Pokémon without it calling for help.
Who Can't Call S.O.S. Battles?
Basically, any Pokémon you find in the wild naturally can call for SOS Battles except for multiples. Minior and Komala both can't call for SOS Battles due to how their abilities and concept work, they both act like they have a status condition so they will never call for it. In addition to that Legendary Pokémon, Ultra Beasts and Pokémon found through the Island Scan feature will also never call for support. The following other Pokémon cannot call an SOS Battle, even though they can be called themselves.
Butterfree
Poliwrath
Gengar
Exeggutor
Chansey
Starmie
Snorlax
Dragonite
Crobat
Sudowoodo
Politoed
Espeon
Umbreon
Sableye
Castform
Salamence
Happiny
Gabite
Lucario
Vanillite
Vanillish
Pangoro
Goomy
Sliggoo
Mareanie
Wimpod
Minior
Komala
Kommo-o
Activating SOS Battles
While S.O.S. Battles may seem somewhat random, and they are, there is a way to make it more likely to be activated. First, get the opposing Pokémon down to low Hit Points. The lower the Hit Points, the more likely they are to call for help. The brand new item, Adrenaline Orb, when used in battle will also make a Pokémon more likely to call for help. This only works once per battle. Finally, if the Pokémon you have on the field has the abilities Pressure, Intimidate or Unnerve, then SOS Battles become more common as well.
Unique Pokémon
So, the most important thing about SOS Battles are that they will often call Pokémon that you will not usually find. For example, facing a Corsola has the chance of calling Mareanie, facing a Cubone has a chance of calling a Kangaskhan and, most hilariously, in Route 3 when you face a Bagon it has a very slim chance of calling a Level 9 Salamence. Yeah, you read that right. To top that off, there are times when the summoned Pokémon may actually turn on the starting Pokémon or vice-versa. The Mareanie you call may attack the wild Corsola. Same with Sableye and Carbink.
Some of these Pokémon can only be found in the wild through SOS Battles as well, so it's definitely a thing worth considering. The Pokémon that are found in the wild only through SOS Battles are as follows:
Pikachu
Clefairy
Jigglypuff
Slowbro
Gengar
Chansey
Seaking
Starmie
Electabuzz
Magmar
Gyarados
Snorlax
Dragonair
Dragonite
Crobat
Sudowoodo
Espeon
Umbreon
Sableye
Whiscash
Glalie
Shelgon
Salamence
Happiny
Lucario
Garbodor
Pangoro
Mareanie
Hakamo-o
Kommo-o
To top that off, there are also some Pokémon that can only be found when weather is in effect and they get called in an SOS Battle. This only happens in select areas of Alola: Malie Garden, Exeggutor Island, Lush Jungle and Route 17.
EV Training
As we touched on in our EV Training guide, S.O.S. Battles are great for EV training. As soon as a Pokémon is successfully called into battle, then the EV yield for all Pokémon is doubled. So if a Pokémon would give 1 point, it now gives 2 points. Teamed with the Power Items and Poké Rus, this means that you can max out a stat by defeating just 7 Pokémon in an SOS Chain, making it the fastest way to ever max out a stat in battle!
Additional Perks
There are also some additional perks to S.O.S. Battles: The more Pokémon you defeat in a single SOS chain, the higher the IVs, Hidden Ability and even shiny chance!
For IVs, after you have defeated 5 Pokémon, the Pokémon you encounter are guaranteed 1 max IV. After defeating 10, they're guaranteed 2 max IVs. Defeat 20 and you're guaranteed 3 max IVs and after defeating 30 you're guaranteed 4 max IVs. This will make it easy for you to get your competitive Pokémon, and if you chain a Ditto to get 4 max IVs, that will really help with breeding for your competitive teams.
Hidden Abilities are a thing that have existed since Pokémon Black and White, and offer a unique new ability for a Pokémon that's hard to get. To get them in Sun & Moon, you have to go through SOS Battles. When you have defeated 10 Pokémon, there's a 5% chance of the Pokémon having its Hidden Ability. Defeat 20 Pokémon and there's a 10% chance and defeat 30 Pokémon and there's a 30% chance of getting a Hidden Ability.
Finally, Shiny Pokémon become more common as your chain continues. The specifics aren't yet known but it does increase it dramatically, with word being that it increases it by 3 times the normal rate!
These all make SOS Battles something worth doing. There's a lot more to them than meets the eye
How to chain SOS Battles
To chain SOS Battles you simply need to just keep it going. Keep one Pokémon on the field and defeat ones that it calls. This does eventually cause issues when the Pokémon run out of PP for their moves, but you can continue the SOS chain by KOing the original Pokémon and keeping a new one to call for help or just using Fling with a Leppa Berry to recover their PP. If the Pokémon doesn't call for help in a turn, simply use the Adrenaline Orb. It won't have any effect and won't use an item so it just wastes the turn.
However, if you KO a Pokémon and the one on the field is one that cannot call an SOS Battle, then the chain will end as it will be unable to call any additional Pokémon.
---
So there you have it, a guide to a key feature that can really help you level up and get prepared for the competitive season. If you want comprehensive details on all things Sun & Moon be sure to check out Serebii, too.