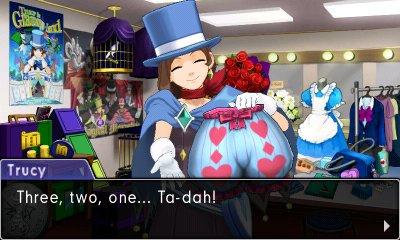 Phoenix Wright: Ace Attorney - Spirit of Justice is the next full entry in the series heading to the West, and the good news is that there's a confirmed release date and a demo on the way. The demo will arrive on 25th August and include part of the first courtroom scenario from the game, and the full title will arrive on 8th September priced $29.99 / £24.99 / €29.99.
Beyond that, Capcom has outlined some of the features that it feels help this new entry stand out, such as new characters, along with different ways to investigate scenes and analyse evidence.
This new game's cast is full of many zany favourites alongside a new ensemble of characters to meet, and today Capcom is announcing several of them, including the return of forensics scientist Ema Skye, who first appeared in the original Phoenix Wright: Ace Attorney. Ema has passed her certification exams and is now a full-fledged forensic investigator. Here she returns to assist Apollo in his defense of the series' popular magician, Trucy Wright, Phoenix's adopted daughter. Trucy is famed for her magic tricks and vanishing acts, until she suddenly finds herself mixed up in an unfortunate incident that takes place during one of her magic shows. With Phoenix away, it's up to Apollo and Athena to uncover the truth about the tragic death of Mr. Reus, one of Trucy's co-performers. During this case, players will also meet the brand new character Bonny de Famme, a fledgling magician who appears in Trucy's show and wants to help Apollo in any way she can, but what will her witness testimony reveal?
In Phoenix Wright: Ace Attorney – Spirit of Justice, forensic investigation techniques play a vital part in players analyzing the evidence to help solve some of the game's mysteries. Utilizing the features of the Nintendo 3DS, players will be able to dust some crime scenes and search for fingerprints, while being able to examine certain objects at the scene a full 360 degrees to uncover hidden evidence like never before in the Ace Attorney series. Will the fingerprints match any of the suspects on file and uncover new truths? Combined with the ability to examine video evidence from multiple angles to check for inconsistencies, and other investigation techniques, this latest title in the Ace Attorney series is set to be the most thrilling outing to the courtroom yet!
Are you planning to grab this on the eShop, or will you wait and see what verdict you come to with the demo? We're certainly quite optimistic based on our impressions of the E3 demo.