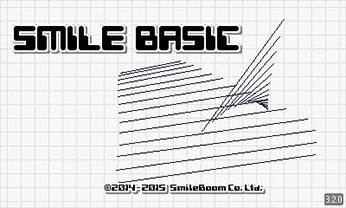 This year has seen multiple game takedowns on the 3DS eShop, all following the same pattern. A hacker creates an exploit using a game, Nintendo spots this, the game is taken off the eShop mere hours after the exploit is posted online. Games that have gone offline in recent weeks and months include VVVVVV, Citizens of Earth and the download version of Freakyforms Deluxe: Your Creations, Alive!.
Now another download release has been withdrawn from the store, again following this pattern. This time it's Smileboom's excellent SmileBASIC, which was taken off the store seemingly hours after an exploit had been posted online. A member of the Nintendo Life community pointed us to the fact, around a week ago at the time of writing, that a coder that goes by @MrNbaYoh on Twitter had been working on this exploit. This writer's hope was that the exploit wouldn't actually come, as this cycle is costing multiple developers - some of them small companies - money in sales.
Smileboom, for its part, has stated that it's working on an update to enable the app to go live on the eShop once again.
We recently wrote a Talking Point on this issue, questioning whether homebrew hackers were thinking about the consequences for eShop developers, especially when triggering exploits on small download-only releases. Hackers are causing the takedowns to happen, with Nintendo evidently having little hesitation in taking third-party products offline at the drop of a hat as soon as exploits appear. There don't seem to be any winners in this scenario.
We wish Smileboom all the best of luck in getting SmileBASIC, a high quality app, back on the eShop as quickly as possible.
[source smilebasic.com, via gonintendo.com]