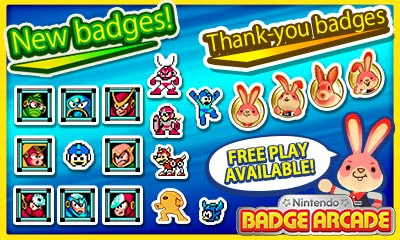 Some time ago we reported that Mega Man was blasting his way to Nintendo Badge Arcade in Japan. The time has finally come for the rest of us; you can get your Blue Bomber-themed badges now, along with various characters such as Protoman, Rush and all your favourite Mega Man villains.
There is also some news of a 'Thank You Campaign' which has started recently. For each $1 spent (and equivalent prices elsewhere) you'll receive thank-you badges of the game's mascot, up to a maximum of $4 and four badges. The campaign ends on the 25th May, so check it out to see if your favourite Arcade Bunny moments are captured as a badge.
How are you enjoying Nintendo Badge Arcade? As always let us know with a comment below.
[source twitter.com]