It's really no secret at all that many of us at Nintendo Life are giddy for Runbow and its perilous, polychromatic platforming. We scored it a 9 in our review and it ranked on both staff and readers' digital picks for last year. The crew at 13AM Games has since released some additional content for their title, so let's take a look at how it mixes into the overall palette.
This new, downloadable content for Runbow is available a la carte or in value bundles, all of which will be priced out at the end. First, let's start with the big stuff.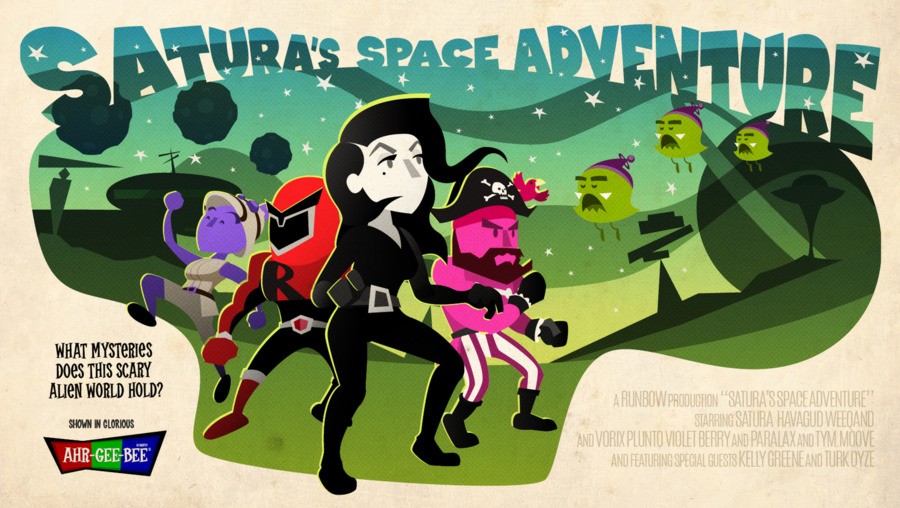 Satura's Space Adventure
A whole new trip has been added into the Adventure mode with Satura's Space Adventure, which plays similarly yet separately from the original offering. It adds 36 new adventure stages, this time with the goal of collecting six pieces of a torn movie poster that are scattered upon various spots on the selection grid.
The new stages take on a sci-fi/space motif, featuring plenty of humorous names such as "For the Crater Good" and "I'm Too Old for this Ship." While singularly themed, however, they don't cut back on the pleasing amount of variety found in the base game. A mix of switches, lasers, portals, levitation platforms and gravity-flipping fields should keep players on their toes; just like always, the more people you have taking on the challenges, the merrier.
In addition to the 36 stages of Satura's Space Adventure, 13 more stages get thrown into the general multiplayer modes. Speed is still rewarded with shiny things, meanwhile, this time being rocket medals; these can be collected to unlock some extra art that comes with the expansion as well. It all makes for a well-designed package that brings in more of the fun that veterans would expect.
New Duds, New Dragon
The remaining DLC offerings in this latest batch are all cosmetic, but remain true to the spirit of the game. New costumes for base characters Val and Hue come in different themed packs. The Professionals Pack supplies doctor and detective outfits, the Winter pack offers snowboard gear and a parka, the Steampunk Pack provides a Victorian look and the Anime Pack amusingly dresses both characters up as magical girls.
Of particular note about these packs is that all - with the exception of the Professionals Pack - include a new music track that can be selected in the multiplayer modes. It's all wacky and fits in fantastically, but can we take a brief moment to appreciate soundtrack expansions as downloadable offerings? They do come in other games sometimes - Super Smash Bros. comes to mind - but it should be done more often.
Finally, the roster of crossover indie characters gets boosted with the addition of dragongirl Lilac from GalaxyTrail's Freedom Planet. Like every other indie cameo runner she brings no individual powers of her own, but she is absolutely free.
Because she's from Freedom Planet.
Not Nominal Feedom Planet.
That sums up new selection of add-ons for Runbow. Satura's Space Adventure and the various packs can be bought alone or as package deals. Anyone who enjoys racing through Runbow at all should find satisfaction in the space adventure, while the rest of the lot is all up to one's own whims and styles.
Here's the Runbow Expansion Rundown:
Satura's Space Adventure (new campaign area, 13 extra multiplayer stages) - €6.49/ £5.89/ $6.99
Professionals Pack (2 outfits) - €1.99/ £1.79/ $1.99
Winter Pack (2 outfits, 1 music track) - €2.99/ £2.69/ $2.99
Anime Pack (1 outfit, 1 music track) - €1.99/ £1.79/ $1.99
SteamPunk Pack (1 outfit, 1 music track) - €1.99/ £1.79/ $1.99
New Costumes and Music Bundle - €6.49/ £5.89/ $6.99
Extra Value Bundle (the whole shebang) - €11.99/ £10.79/ $12.99
Lilac - Free
We wonder what movie genre 13AM might be thinking up for a possible next expansion? Maybe a spy flick or a rom-com? What would you like to see?