Ōkami was developed by Clover Studio, the fantastic Capcom-owned developer that disbanded and formed - for the most part - the equally wonderful PlatinumGames. Originally a PS2 game, we fell in love with the Wii version courtesy of its Wii Remote pointer controls - the act of drawing shapes to trigger abilities and attacks worked brilliantly on the system. Though DS follow-up Ōkamiden was impressive on the portable, it didn't quite match up to its home console predecessor - by the time it arrived Clover Studio had long since been disbanded.
Though Ōkami didn't achieve the sales that it arguably deserved, for those that became immersed in its charms - like this writer - it's an unforgettable experience. The visual style and storytelling showed a studio at the top of its game, and was a sad reminder that beautifully realised artistic visions don't always convert into commercial success.
It's certainly a cult classic, though, and First 4 Figures has now opened pre-orders on an Amaterasu figurine, with the white wolf joined by compatriot Issun. It's 12 inches tall and 17.5 inches long, and as always there are two versions - the standard edition is $349.99, while the Exclusive edition has LED lighting in the flames surrounding Amaterasu's reflector, and costs $384.99. Some images of the Exclusive version are below.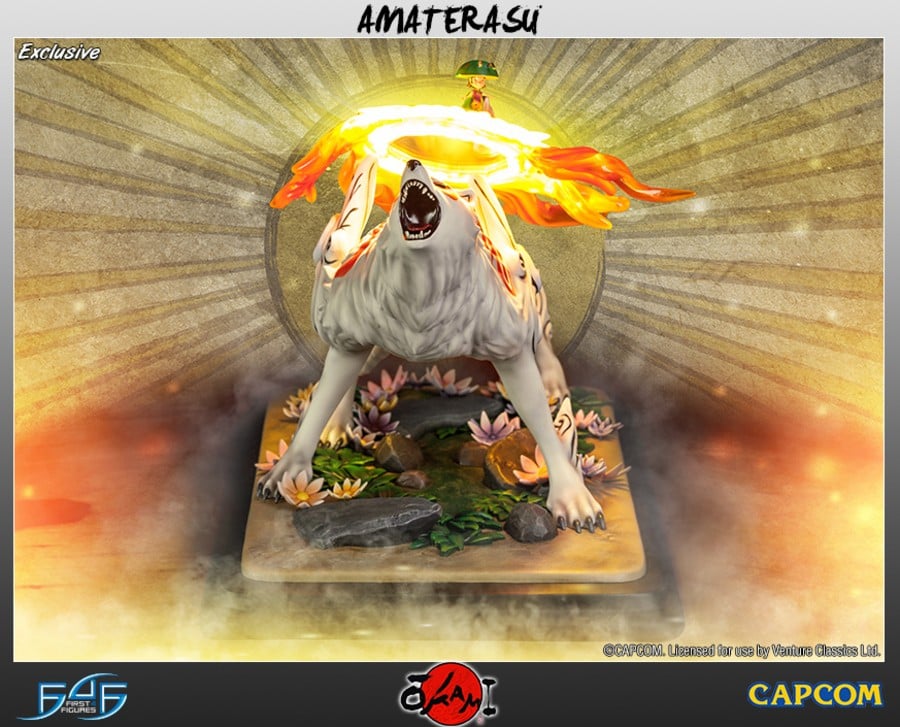 As always with First 4 Figures the pricing limits these to those with plenty of free cash or an irresistible urge to collect. We sure like the idea of having one, though.
[source first4figures.com, via first4figures.com]