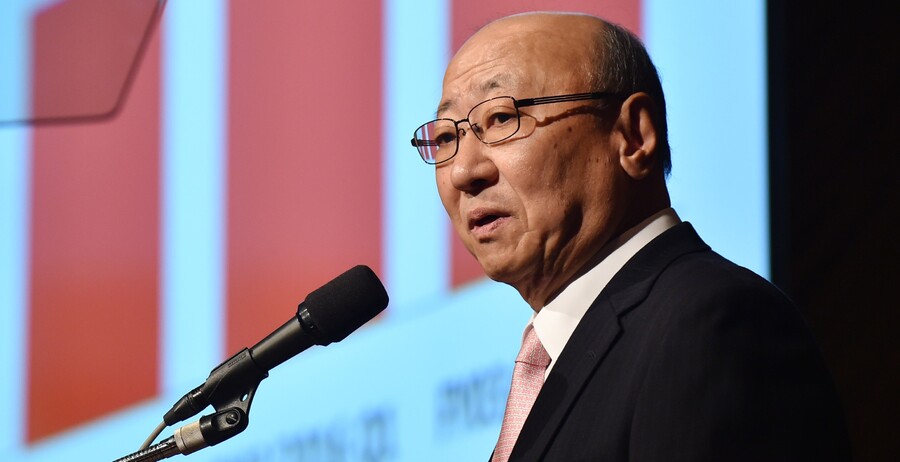 Nintendo president Tatsumi Kimishima took over from the late Satoru Iwata this year, and is overseeing an exciting time in the company's history. He's been speaking to Time about various pressing topics, one of which is Nintendo's new smart device strategy.
Next year, the company will be releasing games for smart devices alongside partner DeNA, the first of which will be Miitomo. The game's delay until 2016 is down to the need to market the product, says Kimishima:
I don't think we have been able to successfully communicate what we're trying to do at this point... I think normally if you look at the smart device business, applications are not advertised, they're not promoted, you just open up the app store and boom, there's a whole bunch of new apps. It's just like, 'Here they are!', and they're delivered to you. Taking time and money and effort to create large commercials around smart device applications has not been part of this business traditionally.
I do believe that we need and want to do exactly that, though, which is why we previously announced that we'd delay the launch of Miitomo until March of next year. From now until that time we're going to be thinking about what we'll do to promote this application, and what we can do to make sure that it is understood by our prospective consumers.
Making sure users understand Miitomo is going to be of vital importance to the company as it attempts to get its smart device strategy off the ground. It's all about increasing the number of people who interact with the company's IP, according to the president:
Nintendo has talked for years about increasing the gaming population. But to further that goal, we want to increase the population who has access to Nintendo's IP first and foremost. Of course the smart device business is not a simple business, it is a highly competitive business, and so for us just to take our IP and drop it into the smart device business, in that existing red ocean, I believe would not be a very successful strategy to take.
We want to increase the population of those people who have access to our IP, and we also need to make the way they access our IP as simple as we can or as easy as we can. And that's how we're going to make the smart device business successful.

What we really want to do is we want people to want to interact with our IP. And so we want to increase the frequency with which they encounter our IP, whether that's through them parks, or merchandize with our IP, or just images and visual interactions with Nintendo IP.
The new Nintendo Account - along with "My Nintendo" - will also be a vital part of this strategy, says Kimishima:
We need something to connect all of this together, and this is where My Nintendo as well as the Nintendo Account system comes in.

So for My Nintendo, of course you'll get points in traditional ways like through the purchase of software. But we're also looking at nontraditional ways of getting points just by accessing our content, wherever you may find it. And you'll be able to use those points in some way or other to get benefits at places like theme parks, or perhaps when purchasing merchandize. There will be opportunities for these points to benefit the end user.
So again, we're looking at really strengthening the connections between My Nintendo and the Nintendo Account system, as well as—and this is I think probably our number one overall goal—connecting all of our Nintendo IP within this framework and allowing our customer base to have access to our IP via this, and gain benefits from that access and that connection. I think that will be something that no other company has to offer.

It's very important for us to establish both of these things, but in order for people to create a Nintendo Account, we must first make them want to do so. Connecting all of these areas, we will establish an account and global membership services that support people across the full range of growing Nintendo experiences.
Which brings us neatly back to Miitomo, the app which Nintendo hopes will be a focal point for this new strategy:
We believe [Miitomo] is something that's going to get people wanting to, through the use of these very well known Mii characters, speak and communicate with their friends. And when they're using Miitomo it's going to be easier to do some of the Miitomo features if you have a Nintendo Account. It'll be easier to reach out and talk to your friends. Once you have that account set up I think it's a very easy transition for folks to want to then register for My Nintendo so they can start earning points.
So they'll start earning points not only by using their software, but by interacting with our stuff, not just by purchasing software, but by interacting both at theme parks and also with merchandize. So something that's again simple and easy for the consumer to accomplish. And then and only then, once we've established these roads by which consumers can reach our content on smart devices, then that'll be the right timing for us to bring more of our Nintendo IP to that business.
What are your thoughts on Nintendo's first steps into the world of smart devices? Do you think the firm is right to apply console ideas like marketing and promotion to smart device titles? Do you think the Nintendo Account system will pull in new players via mobile, and help establish demand for NX? Let us know by posting a comment.
[source time.com]