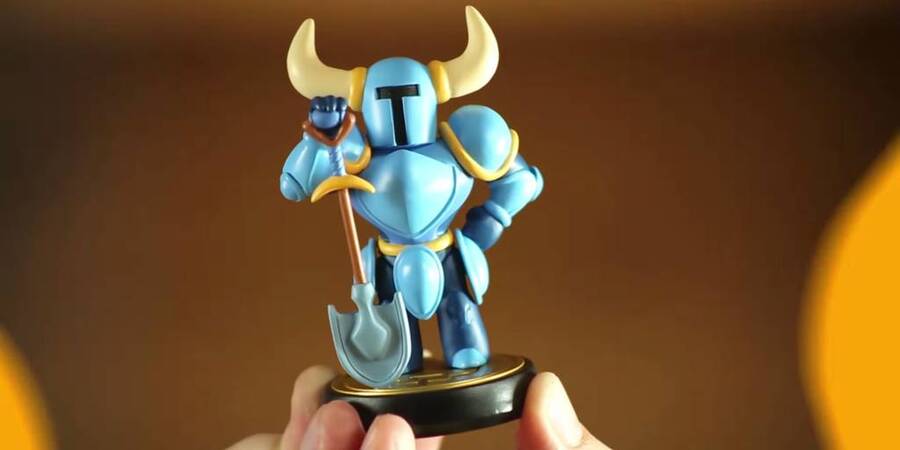 Update:
The official Nintendo UK Store is now joining in with delaying Shovel Knight amiibo pre-orders, despite the subsidiary tweeting on 7th December that the figure was coming this Friday (11th December). We've amended the headline of this article accordingly.
Below is an excerpt from the email being sent to affected customers:
Regrettably there has been a delay in the delivery of this amiibo. We are expecting your order to be delivered to you from Monday 14th December.
This is evidently a broader stock issue, and certainly frustrating. The amiibo has already been released in some European countries (such as the Netherlands) but is now encountering problems in the UK.
Original Article:
The Shovel Knight amiibo arrives in the UK on 11th December, which was reiterated by Nintendo UK recently alongside a neat trailer showcasing its in-game functionality. It adds local co-op on Wii U, a new levelling and relic system and challenge stages designed to utilise the new abilities. For fans of the game it's sure to be tempting, as the figure not only looks great but also adds a decent amount of content.
Unfortunately some in the UK have once again fallen foul of pre-order disappointment with GAME, including this writer. Emails have been sent to a number of customers with the following message:
We just wanted to let you know the release of Shovel Knight amiibo has been delayed until 18/12/2015. Your pre-order is still valid and hasn't been cancelled. You don't need to make any adjustments to your order.
A number of Nintendo Life readers have had this same email, yet the product seems all set for a release this week from other retail outlets. Both the Official Nintendo UK Store and Amazon UK are still taking pre-orders for an 11th December release. Some have told us that they've already shifted their orders to alternatives such as these.
It's a disappointing addition to the list of issues GAME has had with orders in recent times, ranging from cancellations and delays through to multiple payments being taken from customers.
In any case, the Shovel Knight amiibo is still due this week, depending on your order status...