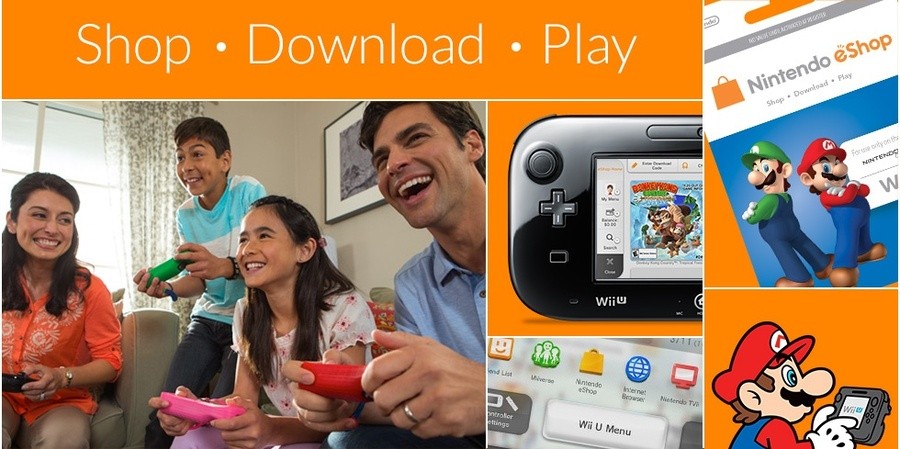 The Wii U is now three years old, having arrived in North America on 18th November 2012. Though it's struggled commercially we think history will be kind to the system in years to come courtesy of the strength to be found in its game library. Whether titles catered to dedicated fans, less experienced gamers or a mix of both, the Wii U has some terrific experiences available.
To celebrate the anniversary we've run a vote among the Nintendo Life team to determine our current top 10 games on the system; we've previously shared our retail top 10, so now it's the turn of the Wii U eShop.
As has always been the case in these staff-voted top 10s we threw it open to the whole team - each had to pick ten games in order with a simple scoring system then applied. There were less participants this time but a much broader range of games that received votes; it was a reminder of how sunstantial and impressive the eShop library has become - 43 games received at least one point from a total of 12 voters.
Naturally this isn't a science, but rather a democratic vote among keen download gamers - it's not a list of the 'best' games, as such a thing is tough to declare, but a list of our combined favourites. It's also dependent on games we actually have in our collections, and in this case the voting was extremely close. In fact we had a number of ties in the lower reaches, meaning there are a good number more than ten in the final list. Ultimately we went for the inclusive option with ties to include more titles - the more the merrier, even if 'top 10' isn't strictly accurate!
So, below is the latest Nintendo Life staff top 10 (plus more) for the Wii U eShop.
Though a timed exclusive on PSN (likewise with its sequel), this challenging twitch skateboarding platformer has proven popular on the Wii U; it was also released on the 3DS eShop. Relatively easy to pick up but tough to master, the Wii U version is an attractive option.
The début release from 13AM Games and a Wii U exclusive, this platformer with a colour-based mechanic utilises the GamePad and allows nine to play at once. A unique party game on the system.
DakkoDakko's tough action title began as a Wii U exclusive, using the GamePad and TV to utilise different camera options. It's had a substantial update since launch to shake up gameplay and remains one of the most unique and colourful titles on the eShop.
Perhaps a surprising entry, this was certainly popular among our team members that picked it up. With plenty of references to the show and retro games this action platformer will certainly push the buttons of fans, even if they occasionally want to throw the controller after another cruel death.
Bertil Hörberg has established himself as one of the best small Nindies around, with the two Gunman Clive games both standing out for their quality on the 3DS eShop. This HD collection (also released on PC) brings them both onto the big screen with some style.
Yet another excellent title ported by Curve Digital to Wii U, this was a critical darling on PC and is perfect for a dark night and pair of headphones. Stylish pixelated graphics portray a mysterious and disturbing 2D world to explore, with some interesting mechanics for self-defence and sustaining your character. A quirky and intriguing experience.
Another critically acclaimed Indie game to make its way to Wii U courtesy of its Unity support, this is a survival experience that can deceive with its quirky art style. This version includes some of the DLC that was released separately on PC and uses the GamePad to help you find your way around.
A bit of a surprise, as we'd have expected this one to be preferred on 3DS, but it seems that a great portable game can also do the job on the big screen. We're certainly fans of this game and the Wii U version does look great with those chunky pixels.
This one's done well to make the list courtesy of being a relatively recent arrival on the store, after a bit of a release delay. It began as a Sonic fan game, yet GalaxyTrail then expanded the title into its own distinct experience - multiple playable characters, stage paths and excellent design combine well for a top-notch platforming experience.
Once a stand-out favourite of the eShop, an increase in competition has seen this fall down some positions since our previous votes. Nevertheless the blend of classic games and quirky challenges remains one of the most fun options on the store.
Much hyped when announced, Capcom brought WayForward on board to come up with stylish HD visuals over what was, at its core, a familiar gameplay experience. A classic of past generations was revived rather well.
Like a few other titles in this list this is further evidence that portable favourites can be successfully brought onto HD platforms. This digging 'Metroidvania' was Image & Form's major breakthrough on 3DS and also proved popular on the Wii U, with its blend of exploration, platforming and Western vibes winning plenty of fans.
This collaboration between KnapNok Games and Nifflas just recently had a major update that includes an extra five levels for free. A Wii U exclusive, it utilises the GamePad in fascinating ways and is equally suited to solo or co-op gaming; with clever puzzles and fantastic design this is certainly deserving of attention.
The first thing you hear when loading this up is the charming voice of Charles Martinet, a good start for this successor to the brilliant BIT.TRIP Runner. A colourful and quirky art style, awesome outfits, along with tight gameplay make this a must-have for fans of more complex runners. Especially those that like competing on leaderboards.
The title is a tip-off for the humorous approach to be found here, and underneath the nods, winks and Nintendo references is an accomplished Metroidvania. With excellent combat mechanics, a hefty campaign and lots of combos and intricacies to learn this offers plenty of top-notch gaming at a download price.
A clear win for the first game from Yacht Club Studios. This title has had an extraordinary level of success across various systems, with an impressive Kickstarter campaign being followed up with a platformer of undoubted quality, from the controls to the pixel-based visuals and its terrific music. Most who've played this rave about it afterwards, and its various game of the year awards and upcoming amiibo figure - a first for 'Nindies' - are testament to its quality.
---
That's the full list, so let us know what you think and vote for your own favourites below - once again we're letting you vote for three, as picking one seems a bit unfair! As always you can also have at it with your own lists and thoughts in the comments.