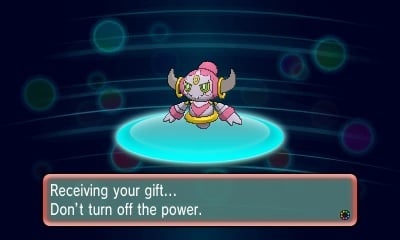 When it comes down to Pokémon lore, Hoopa caused a bit of a stir in the past as fans contemplated its significance after hackers had found the pocket monster's code in Pokémon X & Y. For fans of the movies, animated series and more its role has since become clear, and now those in the West that want the 'mon in their games can start to get excited.
Details for the UK and Germany distribution of this character have emerged - hat tip to Serebii. In the UK GAME stores will distribute serial codes from 23rd October to 5th November, while GameStop will do the job in Germany from 16th October to 7th November; France, Spain and North American dates are still pending but expected soon. As you'd expect the code can be used in both Pokémon X & Y, as well as Pokémon Omega Ruby and Alpha Sapphire.
In ORAS, remember, you can get Hoopa Unbound, a powerful form of the 'mon. The following is from the Pokémon website.
Change Hoopa's form into Hoopa Unbound in Pokémon Omega Ruby and Pokémon Alpha Sapphire! When you enter a Poké Mart with Hoopa in your party in either of these games, you will be able to hear an eerie tale from a worker there and receive the mysterious Prison Bottle. This bottle releases Hoopa from its bonds and allows it to change into Hoopa Unbound!
Are you excited about this distribution? Let us know in the comments below.
With thanks to RupeeClock for the heads up.
[source serebii.net]