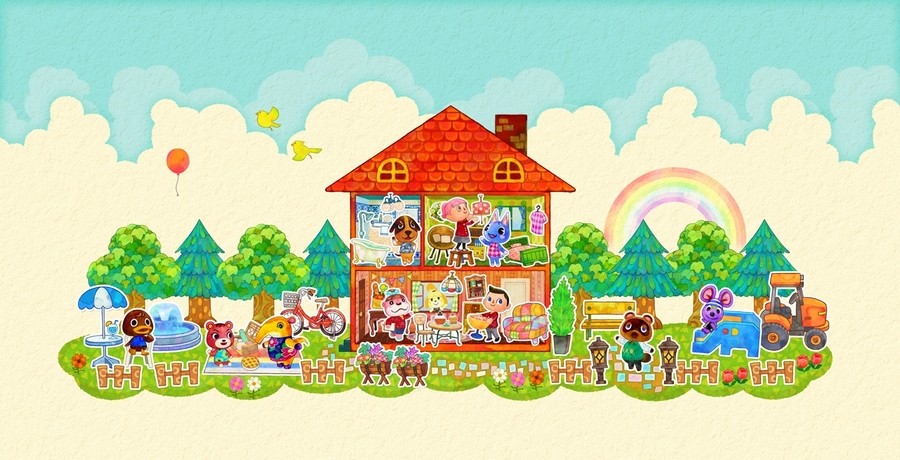 Nintendo's official UK store has opened pre-orders for Animal Crossing: Happy Home Designer, and is offering a selection of bundle options related to the game.
The game on its own is up for pre-order at £34.99 and comes with a special 3DS Kit, which includes:
A universal system case which holds New Nintendo 3DS XL, New Nintendo 3DS, Nintendo 3DS XL, Nintendo 3DS or Nintendo 2DS.
3 styluses: 2 styluses for the New Nintendo 3DS XL system and 1 large stylus which works with any Nintendo 3DS system.
Micro-fibre cleaning cloth to keep screens clean from dust and smudges.
Stores up to 12 3DS, DS Game Cards and/or Animal Crossing amiibo Cards and protects game cards from dust and scratches.
For those of you who don't own a New Nintendo 3DS system, there's the game and NFC Reader / Writer bundle, which also includes the 3DS Kit outlined above but throws in the new accessory which allows older versions of the 3DS hardware to indulge in all manner of NFC-related goodness. This bundle retails for £39.99 - just £5 more than the standard game, amazingly. The NFC Reader / Writer costs £17.99 on its own, so that's quite a saving.
Meanwhile, those all-important packs of NFC cards are available for £3.49. Each one contains 3 different cards, all randomly selected.
But there's more! The special New Nintendo 3DS XL Animal Crossing: Happy Home Designer pack contains a limited edition console, a digital copy of the game, the 3DS Kit (outlined above) and a special amiibo album for storing your NFC cards in. It costs £209.99. There's also a standard New Nintendo 3DS console bundle available for £179.99, with a white edition of the system complete with Animal Crossing-themed cover plates. Yum!
Nintendo is also offering standard New Nintendo 3DS consoles with various accessories and cover plates for £197.99, which you can see here.
Finally, there's the 2DS bundle, which includes a 2DS console, the NFC Reader / Writer accessory with a copy of the game, a pack of NFC cards, the 3DS Kit and the amiibo album. Phew! That little lot will set you back £149.99.
Helpfully, Nintendo has even provided a guide which tells you exactly what you need to play the game, depending on what 3DS system you currently own.
It's worth noting that retailers GAME and Amazon have also gone live with their own bundle options. The game launches in the UK on October 2nd.