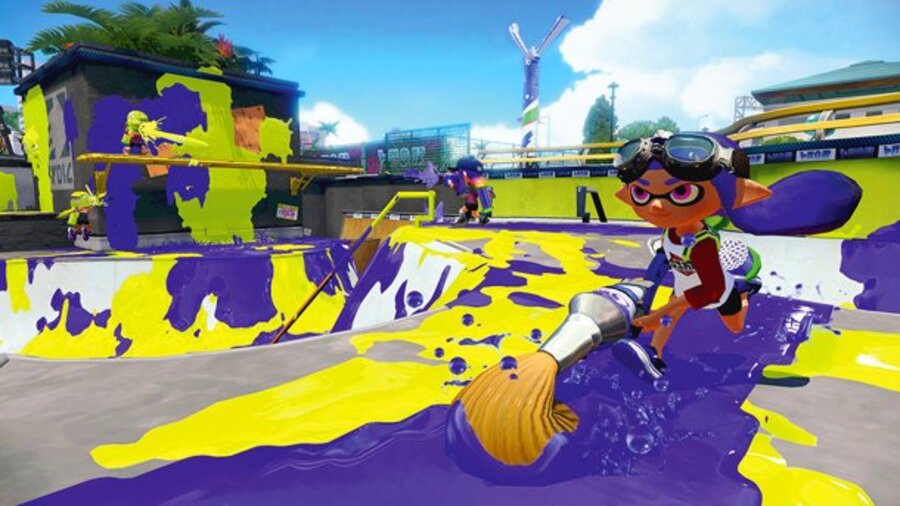 Splatoon has been a massive commercial and critical success for Nintendo - which has surprised a lot of people, considering that the company has limited experience in the realm of online shooters. However, for Nintendo Canada General Manager Pierre-Paul Trepanier, the game's triumph merely ties in with a period of resurgence for the company as a whole following a series of disappointing setbacks.
Speaking to Alphabetic, Trepanier had this to say about Splatoon's impressive sales:
Our presale numbers were amazing, close to Mario Kart 8 numbers a year ago, which is amazing because Mario Kart is an established franchise. Splatoon's challenge is that a few months ago, nobody had ever heard of it.

I love that as a dad it's something I can play with my seven-year-old. It's a complete revolution on what a shooter can be.

We're looking at first weekend sales of about half of where Mario Kart 8 was. Given that Mario Kart 8 was one of the best-selling games last year, that's extraordinary for a brand new IP like this.
He also feels that things are turning in Nintendo's favour now, for a number of reasons:
Amiibo was one of the factors, it certainly surprised us how enthusiastic our fans embraced it to the the degree where we're still struggling to catch up to demand in some cases. Beyond that, Wii U – which struggled for many years, and to be honest, we're still not completely satisfied with where it is – had its best year in 2014.

This year so far in Canada, Wii U is up 19 per cent based on NPD numbers. Last year was a huge growth year with big launches like Mario Kart 8 and Super Smash Bros.

Why the turnaround? I'm a gamer and I'd say it's because we're delivering the fun. When great games come out and they're well reviewed… if you look at our Metacritic scores over the past few years have been great and positive. Our games are being enjoyed and they're very high quality games.

It's a unique formula of Nintendo fun. It's bright, primary colours, it's very welcoming and fairly easy to jump into. It's a family or friends get-together experience. That formula seems to be catching on and driving the Wii U business.

On the 3DS side, it's doing even better. It's up 38 per cent based on NPD so far this year, mostly driven by the new 3DS XL launch back in February.
Trepanier also spoke a little about Nintendo's ethos when it comes to creating games and gaming hardware:

We kind of always do things our own way. It's not that we're actively trying to not do what other players in the marketplace are doing, we just want to prioritize the building of fun experiences.

Based on my few visits to Japan, there seems to be a group of game designers there who are like genius Geppettos in their toy labs. They're these creative people who love to design these experiences that nobody has ever thought of before that might just be amazingly fun. In order to do so, the marriage of the hardware and the software has to be perfect.

It's a core belief at Nintendo that the best experience comes when you have the software guy and the hardware guy sitting side by side. We only launch something when we feel that it opens up new possibilities and that it's going to be amazingly fun.
Finally, he also hinted that there could be some big announcements relating to third-parties in the near future - which we assume means E3:
...you'll hear in a few weeks about some interesting partnerships. We've already over the past year opened up and aggressively sought licensing deals in lots of different areas. In the video game space you've seen Nintendo characters appear in other game worlds. It's also happening outside the game world, with the Universal Studios partnership that will bring Nintendo to fans and families through theme parks.

https://www.youtube.com/watch?v=Yb8B3jcD1S4

[source gonintendo.com, via alphabeatic.com]