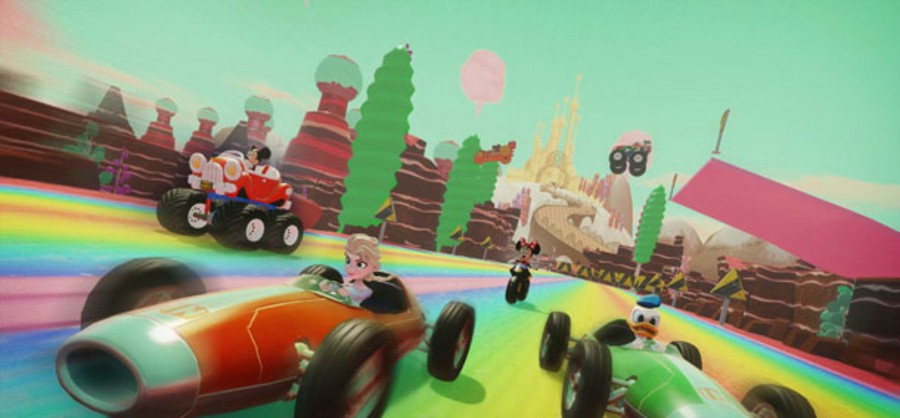 Getting hands-on with the Toy Box for Disney Infinity 3.0 was more than a little interesting, not least because of the Star Wars content and characters therein. At an event in London yesterday we had a chance to experiment with the new game creator as well as try both the Toy Box Takeover adventure and Toy Box Raceway.
The first Toy Box game we tested was Toy Box Speedway from developer Sumo Digital, drawing very much on their Wii U success with Sonic & All-Stars Racing Transformed. This was impressive not only for what can be done with the game creator but also for the vehicle handling enhancements that will be seen across the entire game. It's a nice way that collaboration with a wide range developers - many from the UK - is improving different aspects of the game through specific expertise.
The Speedway game will be purchased as a sculpted play-set piece that is placed on the back hexagon slot of the Infinity Base peripheral. Unlike last year this and other Toy Box mini-games will be sold separately rather than included in the Starter Packs.
This approach is different to last year but is one we like. It should keep the cost of the Starter Pack lower as well as highlighting this content to families. Most parents we've talked to simply aren't aware of how much playable content was locked away with 2.0's Toy Box mini-games.
The racing itself plays much like Mario Kart, although adding in a few twists of its own. There are, of course, red and blue shell equivalents but also unique attacks like the Jalopy weapon that turns everyone's vehicle into an old rust bucket.
Multi-player a little is more limited with only two player locally and four online. A favourite aspect of Sonic & All-Star Racing Transformed for my family was the five-player mode on the Wii U. There are however online leader boards in Infinity's Speedway game to compete against friends.
The driving feels tight, as you would expect from Sumo Digital. Races remain as much about finding the right line (and maybe short-cut) as they are about getting lucky with a super weapon. There are three levels of difficulty much akin to 50cc, 100cc and 150cc. There's also a Tony Hawk-style ramp park to go and practice moves ready for racing. It's all very slick and moves between practice and game-play seamlessly.
There are nine Disney themed courses. In the demo were:
Agrabah Raceway – Aladin
San Fransokyo Circuit – Big Hero 6
Arandelle Racing Rink – Frozen
Gravity Falls Mystery Tour
Road to Knowhere – Guardians of the Galaxy
Monster Mayhem – Monsters Inc
Halloween Town Highway – Nightmare Before Christmas
Dunes of Tatooine – Star Wars
Sugar Rush Raceway – Wreck It Ralph
The other toy Box stand-alone game is Toy Box Takeover. Again this will be sold on its own and opens up a surprising amount of content. As with Speedway you can use any of the Disney characters you own to battle your way through increased waves of enemies and set piece puzzles.
Takeovers offers a good three hours of content with multiple reasons to replay the range of franchise themed levels. It includes some procedurally generated areas that will also be different for each play through. Sitting somewhere between dungeon crawler and puzzle game, Toy Box Takeover felt familiar but enjoyable. In particular it was great to see Star Wars characters battling alongside Disney classics.
We finished off our time with the Disney Infinity 3.0 Toy Box by looking at the Game Creator, and of course some of those class Star Wars items. The list was mind boggling with At-At walkers being brought in at the click of a button alongside classic locations like the Mos Eisley Cantina.
Things have again been improved to help players in their creations. This year sees more seamless navigation to new content. Games are now grouped into genres around a central hub. This not only gets away from navigating menus to find the game you want to play but also makes it easier to stumble upon new content that might appeal.
We also had a chance to check out the new Classic Disney figurines for Tron, Mulan, Mickey and of course Olaf from Frozen. Much had been said about further improving the physical designs and build quality. We were sceptical but have to admit that in hand they are both tactile and impressive.
There was still a lot more to discover, and of course those headline Star Wars play-sets. We'll have news on those very soon!