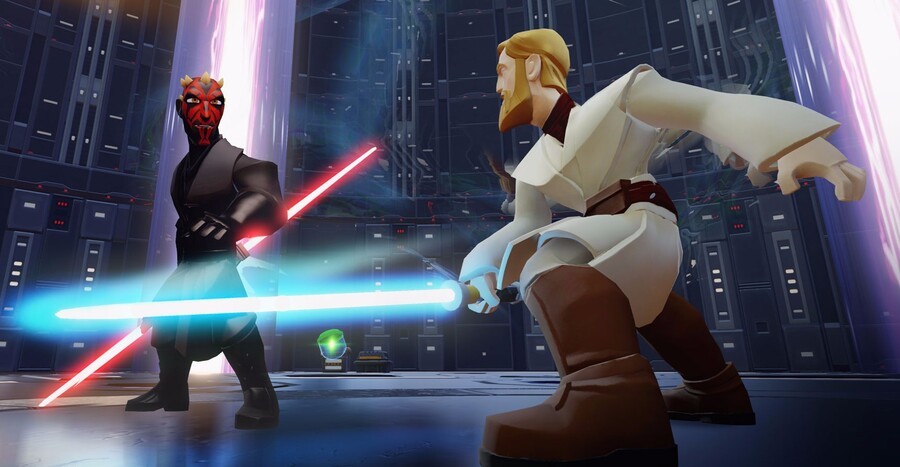 After much anticipation we finally got our hands on the Star Wars levels in Disney Infinity 3.0 in London last week. There's a little time before launch still but the headline here is that things feel very polished and locked down already - we came away very impressed.
Having had a play with the Toy Box game-creator beforehand, we were eager to see what the Star Wars: Twilight of the Republic play-set had to offer. This is the part of the game that comes in the Starter Pack with two characters, Asoka and Anakin.
First off, the toys themselves are pretty impressive. Maybe feeling the pinch from the quality of Nintendo's amiibo range, it seems that Disney have improved their production and designs this year. Admittedly, this could just be "the Star Wars effect" making everything look shiny, or maybe there's some good, old-fashioned Jedi magic being used here - "those amiibo are not the toys you are looking for", perhaps?
The developers on this part of the game are Ninja Theory. Maybe not the first people you think of for a family game, but its heritage of Heavenly Sword, Enslaved and DmC: Devil May Cry adds more weight to the combat while keeping things at a PEGI 7 rating - provisionally, at least.
The Twilight play-set takes game-play through four locations; each one looks the part and they also apply the toy aesthetic well. Everything looks as if it has been sculpted from plastic and is ablaze with buttons, switches, hidden ducts and compartments to explore.
Most important is that this feels like Star Wars. As soon as I heard the opening theme and placed Yoda on the Infinity Base, I was won over.
Also good is the fact this Disney Infinity 3.0 is better value this year in a number of different ways. the price of the game has come down by $10, with a similar reduction expected in the UK. It has also done away with blind bags for the power-up discs, preferring instead to offer consumers choice of predefined themed sets of discs.
Also if you own a Starter Pack for Infinity 1.0 or 2.0 you can now just buy the 3.0 game disc on its own. Of course, you will need to purchase a play-set and figurines to use it properly, but this gives much more control over how you purchase the game.
Last but by no means least, you can use any of the Star Wars characters in any of the Star Wars adventures regardless of the era. This adds more value to each additional character you purchase, and I think is a nice touch for families who might be shopping on a budget.
There are downsides of course. If you collected a full set of toys this would cost a lot. There is also no support for the Wii, like last year, even though the rival Skylanders series continues to brings games out for the older platform. Also, the additional Toybox mini games will be sold separately this year - Toy Box Speedway offers a Mario Kart-style challenge, while Toy Box Takeover provides brawling action - rather than be included in the Starter Pack, and come in a more expanded form.
These negatives really are minor, though. Disney could have easily rested on the popularity of its Star Wars franchise but instead has pushed both the production and value of this Twilight of the Republic play-set. While competition is strong with Lego Dimensions and Skylanders, Disney Infinity 3.0 is looking promising this year.