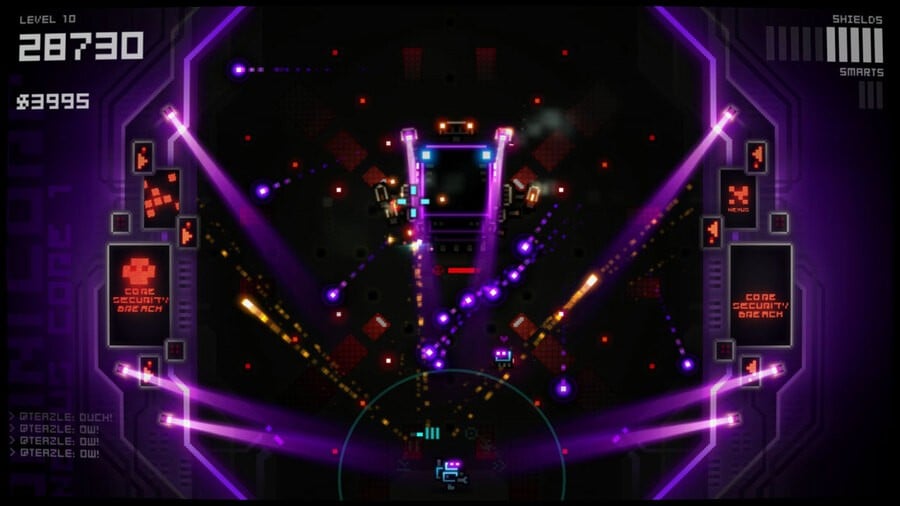 Curve Digital has confirmed that Puppygames's Ultratron is launching on the Wii U eShop on May 14th.
A loving tribute to arcade shooters like Robotron and Smash TV, Ultratron is a twin-stick blaster with a retro-futuristic soundtrack and "slick, stylised graphics." It even has a filter which makes the screen resemble one of those old-fashioned curved CRT sets.
Here's the full press release:
Curve Digital, the largest indie publisher of console titles, has today announced that hypnotic twin-stick shooter Ultratron will be invading Xbox One, Wii U and PlayStation consoles from next week.

Available worldwide on Xbox One on May 8th, PlayStation 3, PlayStation 4 and PlayStation Vita on May 12th and Wii U on May 14h.
The game will be available for €9.99, $9.99 and £7.99 worldwide and launch discounts will be available.

The last human has been slain by evil killer robots. You are the one remaining humanoid battle droid. Your mission: avenge the human race. Boost your battledroid with power-ups, buy cute but deadly pets in the shop. Blast your way through 40-plus glowing neon levels, avoiding Chasers, Turrets, Spawners, Minelayers, bombs, and bullets, and take on the four giant boss 'bots of the Apocalypse - Ieiunitas, Bellum, Lues and Letum.

Ultratron is a homage to the 80s arcade machines of years past. The game hails from developer Puppygames and combines the captivating experience of an old-school Robotron-esque arcade shooter with a unique retro-futuristic soundtrack and slick, stylised graphics, complete with simulated CRT-curve.

With unique retro-futuristic sound and graphics, player responsive difficulty and a subtle system of tactics combined with classic gameplay, Ultratron is a fun and hypnotic arcade blast which has already thrilled players on Steam - indeed, with its 92 per cent positive user rating, it's regarded as one of the best examples of the genre.
Will you be investing in this blaster? Let us know by leaving comment.