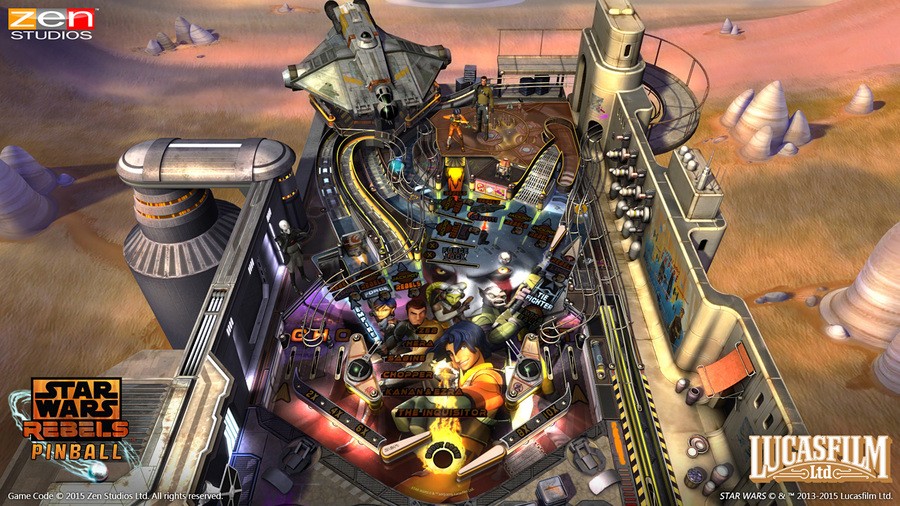 Zen Studios has had a historically spotty release schedule when it comes to its pinball tables on the Wii U. In both Zen Pinball 2 and Star Wars Pinball, tables and packs can usually be expected to arrive either later than all other platforms or not at all. Unfortunately, today's announcement doesn't change this trend, but nonetheless, this new table will be coming to the Wii U eventually.
Zen Studios revealed via its blog that a new table based on the Disney XD series, Star Wars Rebels, will be arriving in this upcoming month. For those of you that haven't heard of the show, it follows the early days of the Rebel Alliance and is set in between Episodes III and IV. Here's the full press release:
Star Wars Pinball: Star Wars Rebels will take players on a journey to a galaxy far, far away, teaming them up with the crew of the starship Ghost, including Kanan Jarrus, Ezra Bridger, Zeb Orrelios, Sabine Wren, Hera Syndulla and the grumpy astromech Droid™ Chopper as they join forces to take on the evil Empire. The table will feature fully-animated starships including the Ghost and TIE fighters, a flaming engine thruster spindisk, Chopper's own mini playfield, and seven exciting missions inspired by the show.
The table is set to be deployed during the week of 27th April on other platforms, so hopefully Wii U won't be far behind. However, considering that last year's Heroes Within pack - which launched on other platforms on 30th April - is still on the way, be prepared to wait for a while.
What do you think? Will you be buying this when it eventually comes to Wii U? Share your thoughts in the comments below.
[source blog.zenstudios.com, via nintendoeverything.com]