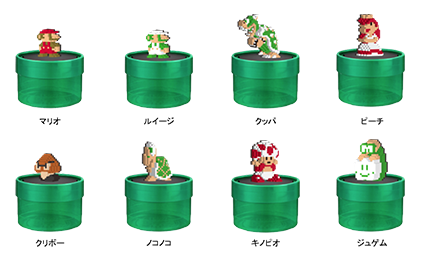 Japanese beverage company DyDo has teamed up with Nintendo to make canned coffee even more appealing. Starting on 17th February the drinks manufacturer will be putting a range of 8-bit Super Mario themed collectables on top of their cups.
It appears that lucky Japanese customers will be able to collect 8-bit style Mario, Luigi, Bowser, Princess Peach, Goomba, Koopa Troopa, Toad and cloud riding Lakitu. Frankly, we'd buy these in the West just because they look cool, but the odds on that are nil unless a similar product in the West has the same idea.
These should prove to be very collectable and even if canned coffee isn't to everyone's taste; it's got to taste better than Pepsi Ice Cucumber right?
[source dydo.co.jp, via twitter.com]