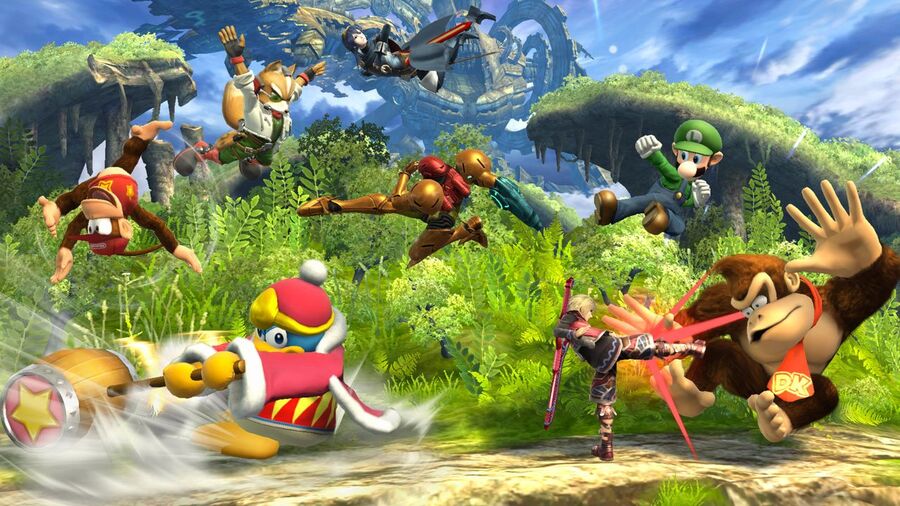 Super Smash Bros. for Wii U has been slower on the uptake with software updates than its portable brethren, possibly due to multiple balancing tweaks in the Nintendo 3DS version being rolled into version 1.0.1 on the home console title. Today does bring us version 1.0.2, however, and while it's not the whopping update to deliver expected features such as online Tournies, it does flesh out 8-Player Smash a fair amount.
A total of 15 new stages can now be used in 8-Player Smash, split between 9 in their 'Normal' form and 6 'Omega' stages. You can see these below.
---
Standard
Mario Circuit (Brawl)
Pyrosphere
Norfair
Luigi's Mansion
Lylat Cruise
Pokémon Stadium 2
Town and City
Smashville
Wii Fit Studio
Omega
Mario Galaxy
Mario Circuit (Brawl)
The Great Cave Offensive
Lylat Cruise
Pokémon Stadium 2
Animal Crossing: Town and City
---
Notably, playing Mario Circuit (Brawl) in 8-Player Smash takes away the gimmick of Shy Guys racing past in karts, so it's just a straight-up battle. This update also promises general improvements and tweaks to gameplay, as the development team continually adjusts balancing and irons out inconsistencies or bugs.
Are you keen to jump into more matches with seven buddies on these additional stages? Let us know.
[source nintendo.co.jp]