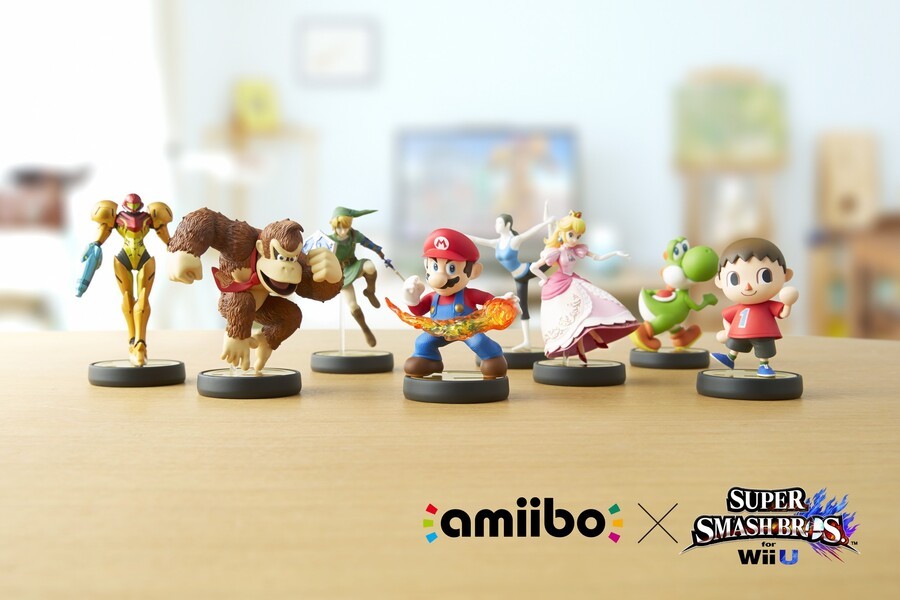 While the attention of many following Nintendo's fortunes over the Holiday season may be on sales of Super Smash Bros. for Wii U and Pokémon Omega Ruby & Alpha Sapphire on 3DS, Nintendo itself could be forgiven for watching the performance of amiibo more closely. Sales success for the two biggest hitting games from the company is relatively assured — albeit overall volume on Smash Bros. will depend on Wii U hardware sales contributing — but the amiibo NFC toy range is a new venture.
Instinctively we suspect that, given shelf space and solid marketing, a mix of nostalgia and general brand power could drive the initial range of toys to some success. Though branded for Smash Bros., Nintendo has already outlined various uses that they'll have in games such as Hyrule Warriors and Mario Kart 8, with more details to follow in addition to 3DS support in 2015. Shigeru Miyamoto and Satoru Iwata have also outlined internal discussions on exploring amiibo cards and smaller figurines, and implementing those products in franchises such as Animal Crossing.
The company seems to be betting big on amiibo, a perspective given further weight by comments coming from senior Nintendo of America representatives. Speaking to IGN, licensing manager Damon Baker explained that the toys won't necessarily be limited to Nintendo games, but that opportunities are being explored with third parties and even download 'indie' developers.
We're having those conversations and we're still early on because amiibo isn't even going to launch until later this month. We're excited to see how that pans out but there's a ton of interest from our third-party partners and we're looking at what makes sense in terms of business models and levels of integration. There are really creative ideas that are coming through and we are working towards some opportunities for next year.
Marketing director David Wharton unsurprisingly echoed that positive mindset, sharing his expectation that amiibo could become a prominent and exciting product for Nintendo and its partners.
Think about our implementation for our products, it's really developer-centric. It's really about opening up new capabilities and new ways of extending the value of games and bringing the functionality into games. As a company we're interested in as many different creative explorations of that functionality.

Exactly what that's going to be in the future, not only for third-party but first-party, that story has yet to be written. We've got a couple of examples of how it's going to look today — but imagine the future, the sky is the limit.
What do you make of the plans and Nintendo comments around amiibo over recent days? Do you believe the toy range can truly take off and open up exciting opportunities, or are you underwhelmed by the concept? Sound off in the comments below.
Thanks to Benson for the heads up.
[source m.uk.ign.com]