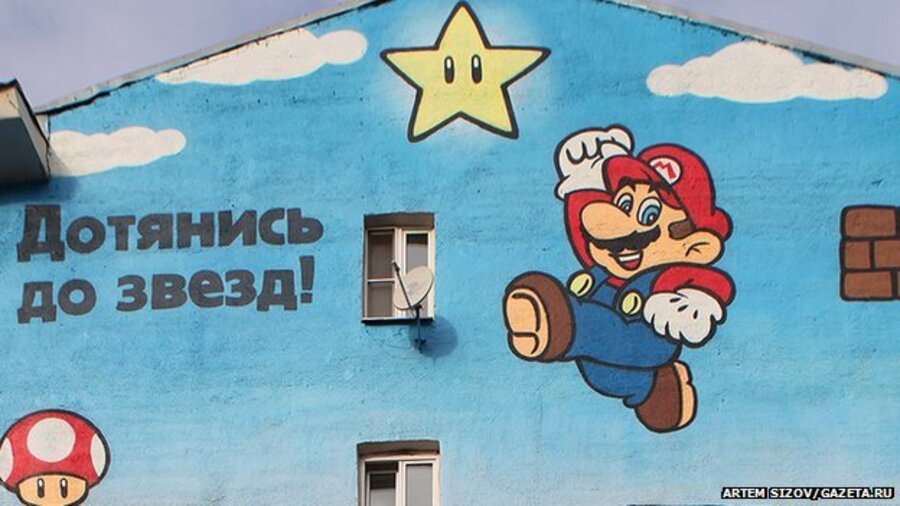 Buildings are often used as giant canvasses to spread a message, and while this is mostly general advertising, it's not too uncommon to see a political statement splashed boldly onto a highly visible location. One 19th century residence in Moscow however proudly carries a depiction of Mario himself!
Spotted on the historic street of Novoslobodskaya, the mural has been painted over one which previously celebrated Russia's annexation of Crimea this year. A project run by pro-government youth groups named Art-Facade is responsible for both murals, aiming to showcase young artists by allowing them to display their work in the cities of Moscow and St.Petersburg.
Alexander Diaghilev, the project's co-ordinator, has since admitted that residents weren't asked whether or not they'd like such a strongly patriotic message on their street, and had requested that the mural be painted over with something a little more ''benevolent''. The group set to work once more, and as a result the ever-chipper Mario can now be seen bounding along a colourful landscape, asking residents to ''Reach for the stars!''.
The original mural showed a Russian soldier actually playing hockey on top of Crimea, so Mario's charming message is certainly a lot more innocuous overall.
What do you think of the change? Perhaps elsewhere we'll see a motivational mural from the Zelda series, encouraging us all to 'Link' together and recycle, or something. Let us know in a comment below!
[source bbc.com]