When Nintendo announced, almost in passing, that a Wii U port of Bayonetta would be provided with system exclusive Bayonetta 2, there were many happy action fans — not least because that first game port hadn't even been confirmed before that point. There was then much confusion over distribution, however.
In North America all purchases of Bayonetta 2 will come with the first game free, with a relevant discount applied to eShop purchases. The deal's a little different in Europe, where there are two separate retail releases, one that's just the sequel and a slightly more expensive edition with both on disc; they'll be sold separately on the eShop. It had seemed that North America's one physical retail release would come with a download code for the original, meanwhile, yet the updated official website contradicts those statements from earlier in the year; you can see two separate discs on show in the image below.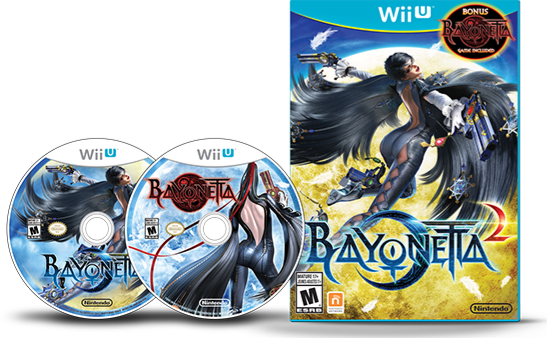 So there you go, North American retail fans, if you go for the physical option both games will come on separate discs, which is sure to please collectors and those with a preference for physical media.
If you're picking up Bayonetta 2, let us know which purchasing option you're going for in your region, while you can see what we think of both games in our Bayonetta and Bayonetta 2 reviews.