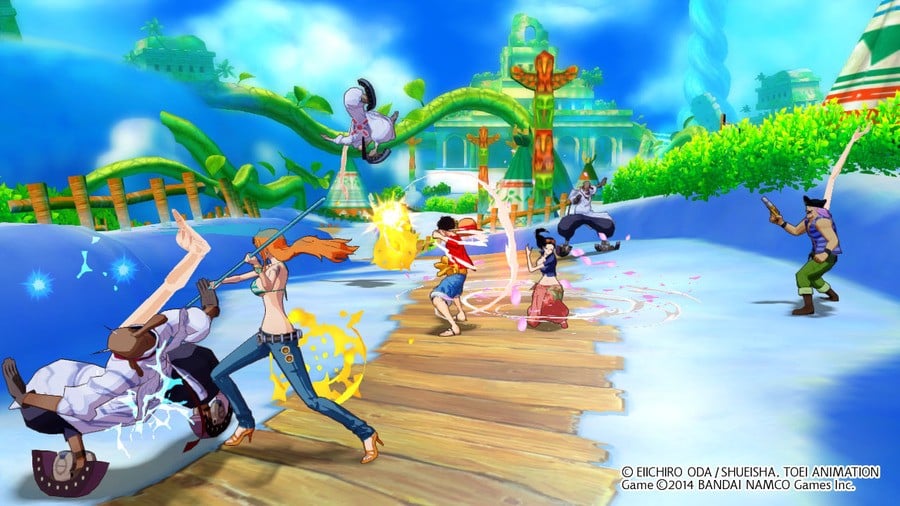 One Piece Unlimited World Red is currently available on Wii U and 3DS, and Bandai Namco Europe has now issued details on the latest DLC — this follows on from the free "Red Stands Alone" quest originally issued.
The content is apparently live in PAL regions now, with the press release providing the following details:
The first DLC of this new batch is "The Golden Bell Tower", a mission where Luffy and his crew will quest for a massive treasure… or at least a handful of Berrys!

The second DLC ("Nami Swimsuit Pack") contains a new swimsuit for Nami and a quest called "Hody's Revenge" where the Straw-Hat crew will fight against the brutal Fishman who is seeking for retaliation once again!
That Nami Swimsuit Pack is the second DLC option along those lines this week, with AeternoBlade receiving a "Super Sexy Bikini" recently; it seems artificial skimpy outfits are all the rage during summer months.
What's unclear from the press release is pricing, so we've reached out to Bandai Namco for clarification.
Have you been enjoying One Piece Unlimited World Red, and are you planning to pick up the DLC? Let us know.