If you're like us then you're probably still recovering from that gorgeous Legend of Zelda Wii U footage shown off during Nintendo's E3 Digital Event.
The forthcoming game looks amazing, but 2015 feels so far away — so what better way to make the wait a little less painful than to furnish your desktop with one of these beautiful wallpapers?
Take your pick and spruce up your screen — and keep counting down those days until 2015 comes around.
Zelda (Wii U) - Open World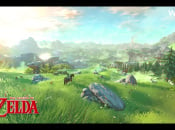 Widescreen

Laptop

Desktop
46,716 downloads