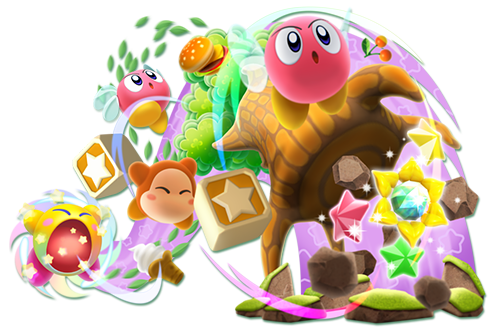 The weekly UK charts have seen a number of 3DS titles deliver a decent début performance before falling out of the reckoning; no 2014 releases have yet hit that magical consistency enjoyed by some major titles of 2013. There are more significant games on the way to the portable, of course, and the latest visitor to the charts has at least limited its second week tumble, to a degree.
Kirby: Triple Deluxe has dropped out of the top 20 in its second week, but its fall has been gradual enough to suggest it may survive a third week in the top 40. After a top 10 début in the single format charts the platformer has come in 24th this week, while the all-format results have brought a drop from 16th to 23rd, with the quirk of multi-platform releases seeing the 3DS exclusive fare better in the latter category. Pokémon X is the only other Nintendo survivor, securing 40th place in the all-format results.
We'll see whether Kirby can go one better than Mario Golf: World Tour and survive a third week. Next week we're likely to see Watch Dogs come out on top with its release on four consoles, though we'll be more interested in the performance of the excellent Wii U-exclusive Mario Kart 8, and whether the racer can even top the individual format charts.
[source chart-track.co.uk]